Some things to consider when it comes to digital trust:
What is digital trust?
Organizations which can build digital trust are more likely to see growth rates of at least 10% on their top and bottom lines. This is according to a recent
McKinsey Digital survey
. However, just a small number of companies in the survey can deliver on that promise. So, what exactly is digital trust? The same source defines digital trust as follows: confidence in an organization to protect consumer data, enact effective cybersecurity, offer trustworthy AI-powered products and services, and provide transparency around AI and data usage. With that definition in mind, let's take a look at what this means to consumers, especially those of remote access software.
Why is digital trust important to consumers?
Before buying, consumers want to know the company's data policies (85%) and AI policies (72%). They will also go to another supplier if they don't know how the company will use their data (46%). So, why is digital trust important and how can it help a consumer decide to use a product or not? Here are some numbers that make this very clear. 53% of consumers will only buy from companies known for protecting consumer data. They will stop doing business with companies that violate their trust – 40% of all respondents and 52% of B2B ones. What's even more interesting is that this happened more than you'd imagine. Just in the last year, one in ten respondents did this. In the case of 14%, it was due to disagreeing principles; 10% did it after finding out about a breach. So, knowing this and the
prevalence of attacks like ransomware
, do companies make sure that digital trust is a given when it comes to their services? Well, they certainly think they do. And so do consumers, unfortunately. 77% of the latter believe that they're taking appropriate data protection measures. Confidence grows as age decreases, and so does the likelihood of storing data online. As
shown in one of our recent webinars
, though, humans are usually the weakest link in the authentication chain.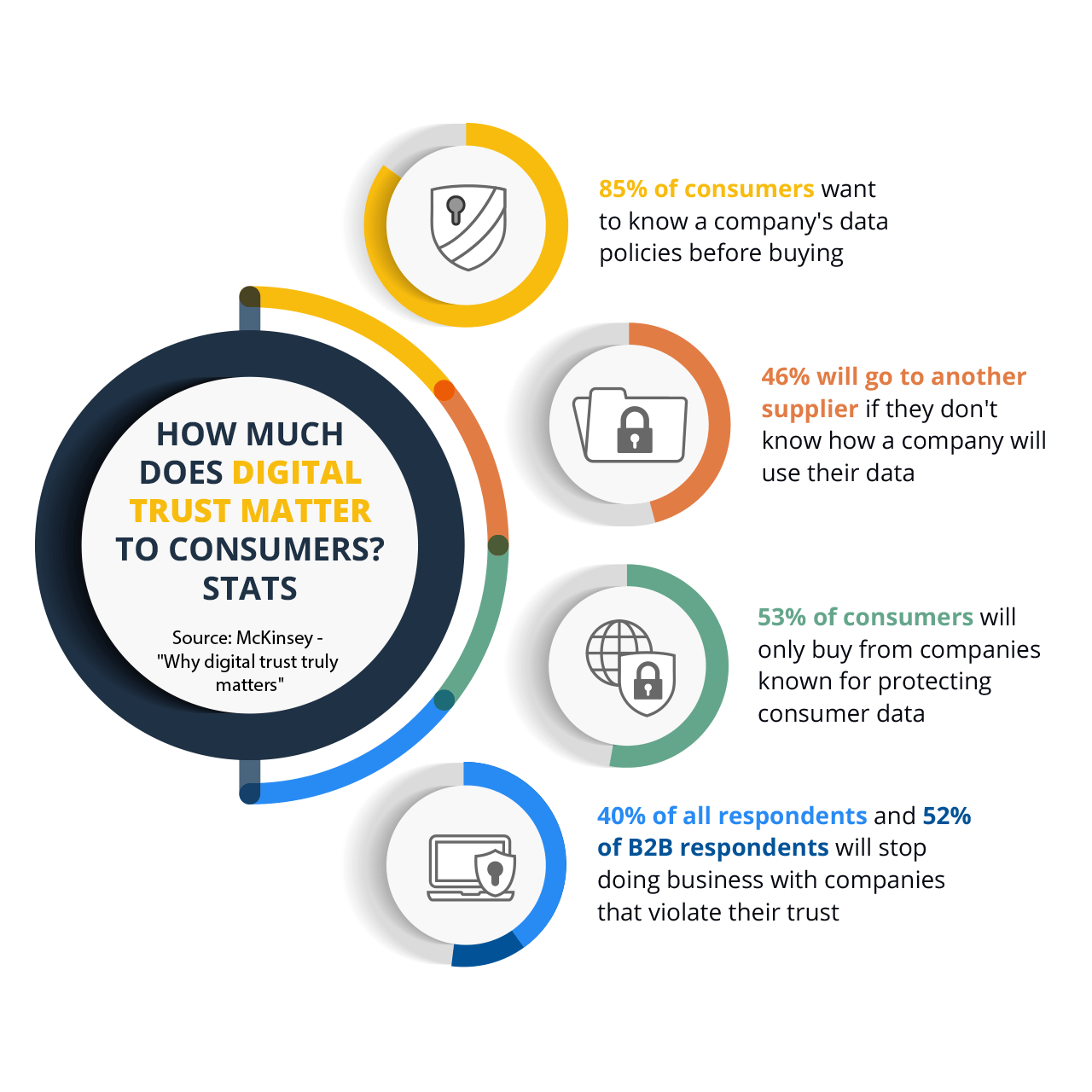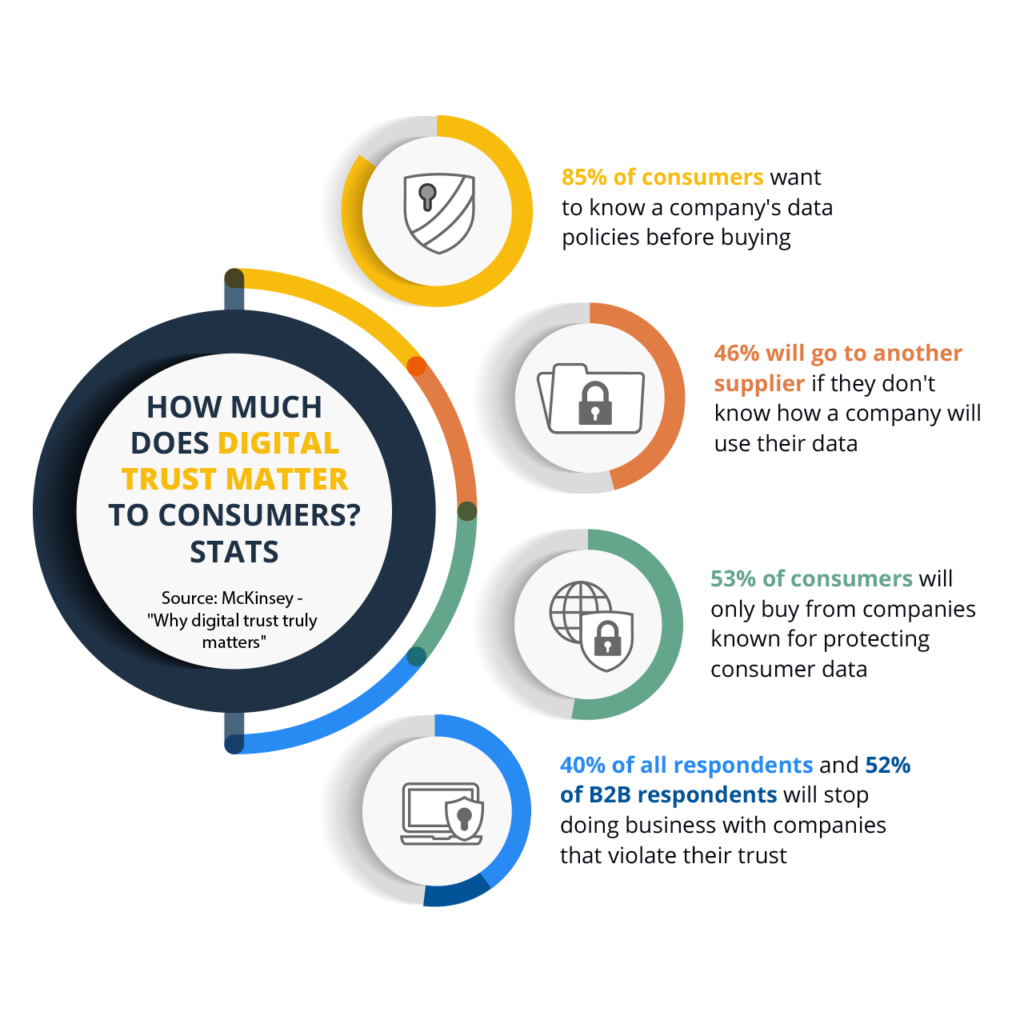 How to build digital trust
Also, many companies claim that they're doing a good job when it comes to avoiding digital risks. Namely, almost 90% of companies think of themselves as "at least somewhat effective" at this. However, many don't seem to really know how to build digital trust. Three-quarters of responding ones do have policies on handling sensitive data. Almost all even have a moderate degree of confidence that employees follow them. Also, less than a quarter are mitigating many digital risks. However, this confidence seems even less founded when it comes to actual incidents. More than half of executives responding admit that their company has suffered at least one data breach in the past three years. There is a strong correlation between digital trust and data breaches. Digital trust leaders are less likely to suffer negative incidents. The same study has found that their chances to have revenue and EBIT increases over 10% are 1.6 times more.
What makes RealVNC a digital trust leader?
At RealVNC, we build software with security at its heart, starting with a shift-left development approach. This means that our four security principles are at the heart of everything we do. These principles are as follows:
You don't have to trust RealVNC as a company to trust our software and services.
We do not record your sessions, and data cannot be decrypted now or in the future.
Every connection is treated as though it is made in a hostile environment.
The owner of the remote computer ultimately decides who can connect.
Looking at the data above, one thing stands out. Namely, a lot of companies claim they're secure. Very few can prove that they're doing something about it.
To do our part, we've challenged customers to ask their software providers to prove their security. And to show that for us security and trust are not empty words, we've opened our doors to a comprehensive white-box security audit by Cure53.
The respected German cybersecurity firm's report has proved our strong security stance. You can look at a summary here.
What will the future bring?
RealVNC will continue to work towards the most secure remote access solution possible. At the same time, we'll continue to ask for more, not just from remote access providers, but from every company that handles their data.  And this is in the hope of a future in which digital trust will mean more to companies than some nice-sounding words. And you don't need to take our word for it. Get a free VNC Connect trial and see for yourself!