Add powerful remote monitoring and management to RealVNC® Connect with RPort.
Give your IT team the powerful remote monitoring and management tool they need to maintain network and asset reliability, security and optimal performance.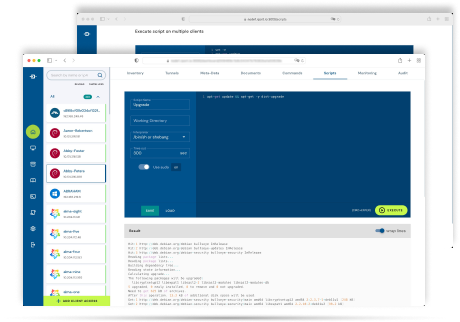 Empower the entire IT organization 
RPort is the only RMM platform that features RealVNC® Connect empowering the IT organization with a certifiably secure remote access solution.
A single pane of glass for all your devices
Bring all your devices into view and within easy reach with real-time inventory management, scripting, and remote access, all in one place. RPort lets you keep tabs on thousands of devices across Windows, Mac, and Linux devices, without taking up all your team's time.
View endpoint status
See which endpoints are online and reachable, and which are offline.

Centralized

device

management

RPort gives IT teams a single interface through which to

install and

manage

software

across all the organization's devices.

Manage devices outside a session
Using scripts and commands, IT can easily manage multiple endpoints without needing to start up a RealVNC® Connect session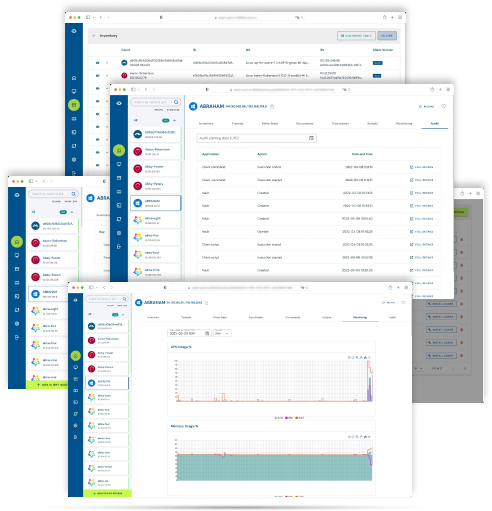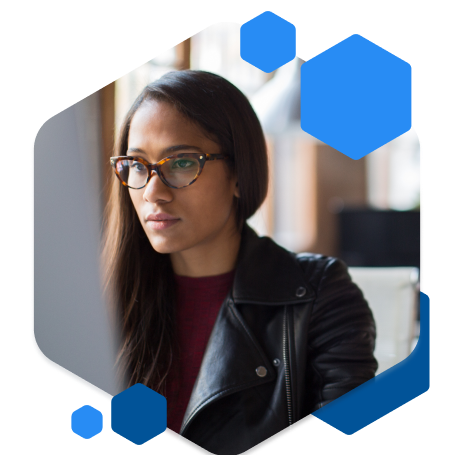 Build and reuse the scripts you use most
Lighten the admin load on the IT Ops team by using scripts and commands to automate tedious, time-consuming tasks and workflows. Setup and schedule customizable scripts and commands to run at specific times or events to push updates, run diagnostics, check systems, and more.
Extend your IT team's oversight
While RealVNC® Connect is great for devices that have GUI interfaces, RPort lets you manage ones without a GUI. Perfect for devices like Linux servers, and embedded or IoT devices. RPort also allows IT Teams to easily manage other devices such as switches, routers, and printers without needing to start up a remote access session.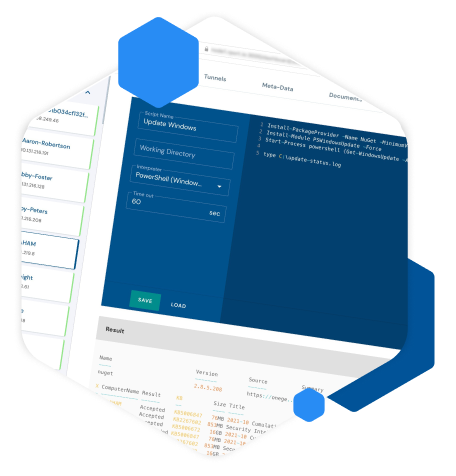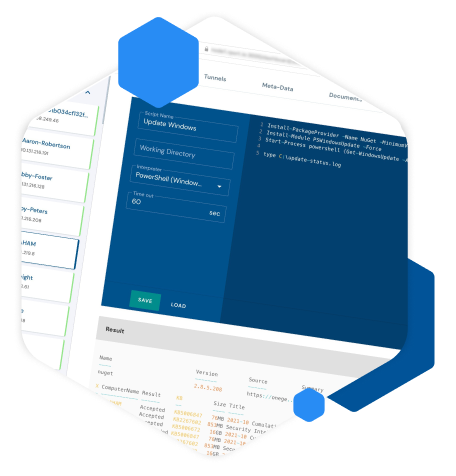 Security and patch management
Automate device updates for stronger network security
Ensuring your devices are running the latest software is a quick-win for improving your network's defences. But keeping devices up-to-date is a constant struggle. RPort helps ease the burden for IT teams by automating admin-intensive tasks like software updates and patch management with scheduled scripting and commands.

RPort supports the multi-factor authentication methods available in RealVNC® Connect, allowing you to extend the same security measures to other devices. For the full list of MFA options available in RealVNC® Connect, see this help article.
"In 2021, nearly 3 out of 4 attacks exploited vulnerabilities that were discovered at least 3 years ago or more. 17% of attacks used vulnerabilities that were over a decade old ."
Browser-based remote access
Jump into devices with a choice of connections
When you need to remotely access devices, RPort gives you a choice of methods to connect. Start a secure remote session straight from the web console using the native RealVNC® Connect integration, or with encrypted tunnels over RDP, SSH, or HTTP.
Start a RealVNC® Connect session with a click
Using the built-in RealVNC® Connect integration, you can quickly launch RealVNC® Viewer and start a remote session automatically, straight from the RPort web console.
Encrypted connections
Every connection made with RPort is encrypted end-to-end, ensuring your remote connections are protected and private.
Privileged IP access
Restrict connections to authorized clients using per-connection IP address rules.
Close tunnels with a click
Kill switches are built into every tunnel in RPort, giving you the control to tear down any suspicious or unwanted connections in an instant within RPort's console or via API.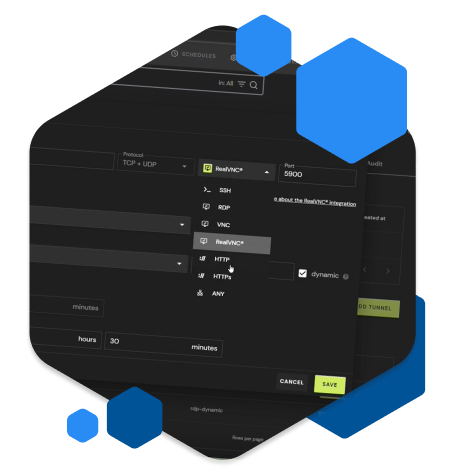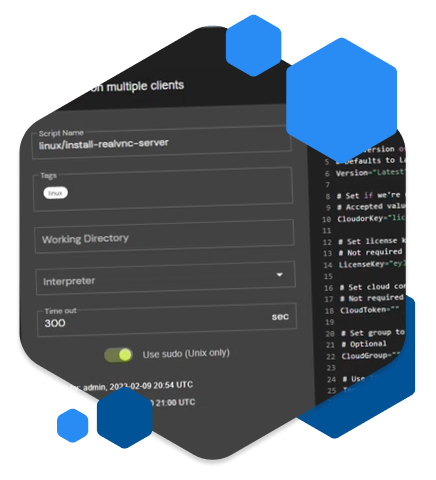 Automate every
RealVNC® Connect deployment
RPort makes managing RealVNC® Viewer and Server deployments quick and effortless. Use scripts to automatically install and push updates across your entire IT estate, licence and configure RealVNC® Servers, and centrally manage RealVNC® Server direct connectivity.
Works in the cloud
or on-premise
Choose a setup that suits you with support for both on-premise deployments or deployments into your preferred public or private cloud provider.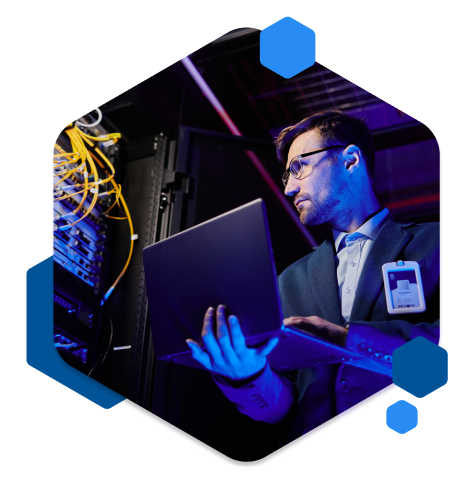 Get in touch to discuss any of the following:​