VNC Connect teams
You can use VNC software to manage computers in physically inaccessible areas. For example, managers of a research laboratory will need to change parameters on computers in real-time. To complicate matters, said machines are running in a sterile environment. However, the sensitive nature of the information will mean that different users only need access to specific machines. Using teams and groups allows a fine-tuning of access to specific resources. 
All machines using the same subscription will show up as part of your team. This is both on VNC Viewer and in your online account. Namely, the moment you license VNC Server on a machine, it appears automatically. You can find these under Computers, in your RealVNC account.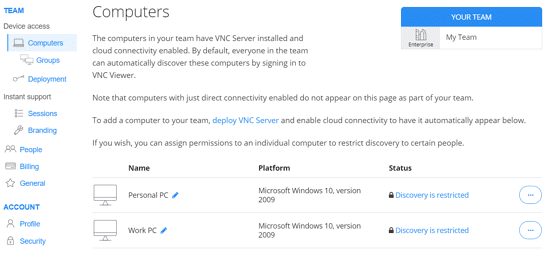 However, you must enable cloud connectivity to see them as part of a team. A Business subscription, which is allowing only direct connections, will not permit this, as you need cloud connectivity for it. 
If your account includes multiple subscriptions, you can always rename teams. You can do this by clicking General in the menu on the left, as seen below. For example, if you're using a different subscription for different parts of the business (finance, admin etc), this is a very simple way of differentiating them. You also can rename individual PCs, the exact same way. 
Users, teams, and permissions
However, it is important for the right people to have access to the right information and resources. Security is paramount, especially in environments where you're using sensitive information. VNC Connect offers very easy ways of managing access. 
First, you can set up access for different users at a team level. Click People on the right side of the page. You will be able to invite users to your team. In addition to this, you can decide the type of permissions they have – user, manager, or admin. 
Should you need access that's even more specific, that's covered as well. The Groups option allows the bundling together of users and machines in a group. This then allows you to decide which users can discover which machines in VNC Viewer.