The inception of passwords goes back to the Roman days when the then military used watchwords to verify identity – this was an early adoption of an authentication system where the army would be able to tell friends from foes.
Given the power of remote access, your password alone is an essential security measure, just like it was for the Romans. 
VNC Server password and RealVNC account password
The VNC Server password and RealVNC account password are two very different things, but in some cases, they can cause a little bit of confusion. The VNC Server password is the password that you input when connecting to a remote computer. If that's your chosen authentication method for the respective machine, that is.
You can protect remote computers running VNC Server with several authentication methods, though. The default one is system authentication. Namely, the same username and password that you would use to connect to that computer. Many other options are available, including Interactive system authentication and Single sign-on (SSO). More details on all authentication methods are available here. Multi-Factor Authentication is also available (and very recommended!).
With that said, if you want to protect your data with a VNC Server password,  find out how to change it below.
The RealVNC account password, on the other hand, is the password that you use to sign in to VNC Viewer, together with your email address. You use the same credentials when applying your subscription on a VNC Server, or when you manage said subscription in your online account.
And here's precisely how you can change both:
(1) How to change your VNC Server password
It's important to note that RealVNC does not manage the VNC Server password. So If you're using the admin password to connect to a remote computer, the change can only happen on that remote computer. You will need administrator credentials on the machine you're connecting to for doing this. If you don't have them, this will need to go through your system administrator.
Once connected to that machine, you need to open the VNC Server from the system tray.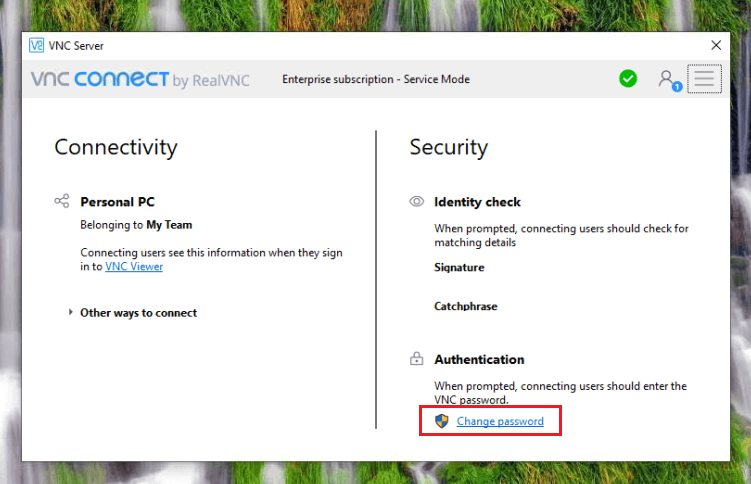 A dialogue box will pop up, asking you to input and confirm the new password.
(2) How to change your VNC account password
Should you need to change your RealVNC account password, go to the sign-in page. Once there, input your registered email address and click the Next button.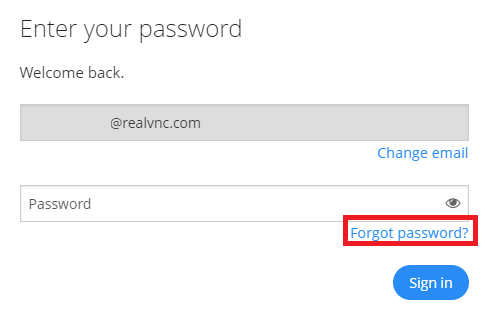 You must have access to the registered email address, in which we'll email you a link with instructions – the link will only work for a set period.
Actionable tips to enhance the security of your passwords
As good password hygiene is essential for your account security, we recommend that you do not use the same passwords.
Safety should be above everything! With humans being the weakest link to password security, businesses should ensure extra steps are in place to protect the integrity of their data – the latest Verizon report indicated that 82% of data breaches came from human error.
I recommend reading through a previous blog in which I covered five great ways of strengthening your password. Right off the bat, two things your organization can implement:
The use of a password manager.
The use of Multi-Factor Authentication (MFA) everywhere.
For more in-depth information on MFA, check out our 3 reasons why MFA needs to be a part of your remote access strategy.
Transparent security
We also ask you to challenge the security of your remote access solution. And all the other software you might be using, for that matter. This is because the safety of something with such direct access to your data matters greatly.
With that said, we're not just saying that we're secure. Our recent security audit by Cure53 enables us to have transparent security. We gave Cure53 access to the entirety of our solution and systems, and we're happy to share the results – you can find out more in our blog post and download the direct Cure53 summary report here.
Of course, we don't rest on our laurels, so improving our security stance is always a work in progress as we adhere to our fundamental security principles. So is challenging the industry to show that its solutions are secure with more than words.
Security should be above everything!