Why integrate secure remote access?
RealVNC's software adds remote access to a large number of products around the world ranging from commercial vehicles on roads to set-top boxes in your living room. The software allows manufacturers to efficiently provide IT support to their customers.
Consider the following scenario:
You are a manufacturer of custom Windows tablets for warehouses. Your customer uses your products on a daily basis. When they run into an issue, they can contact your support department. Your support staff could, in turn, try to understand what the issue is. Then, they could try to explain the steps towards fixing it. If that's not an option, or the customer can't explain the issue, they would need to return the product.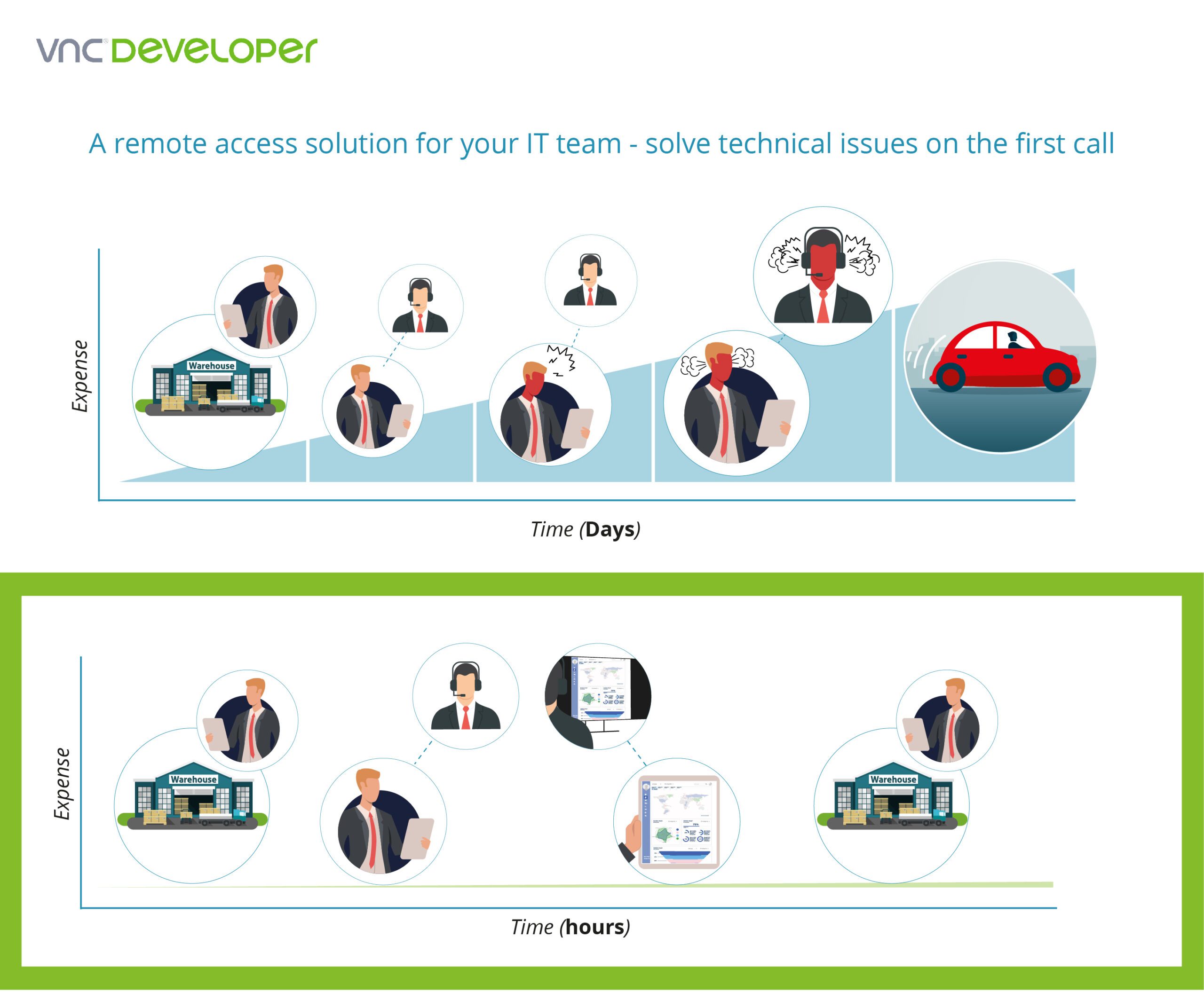 What we have mentioned above is a typical hassle that would take a lot of precious time and resources from you and your customer, creating clashes that could easily be avoided. Wouldn't it be better if your customer support agent could access the tablet in question? They could see what the issue is first-hand and, most likely, sort it out in minutes. The video below provides a quick look at how this would work.
VNC Developer benefits
The benefits of integrating secure remote access are almost indisputable. Here are some of them:
Operating costs are lower by making on-site service almost unnecessary.
Customer satisfaction is higher due to faster service.
New revenue creation opportunities will arise from customer engagement.
Increased system uptime, due to faster problem resolution.
Easier risk management. For example, outdated software present on machines can be updated remotely and with a few clicks.
Regulatory compliance will not be an issue due to end-to-end encryption, multi-factor authentication and session auditing. 
But achieving something like this must be very difficult, right? Not really. You just need to become a partner of our OEM Partner Program, VNC Developer. 
Once you do so, we will work with you to come up with the best integration for your product. The strategy will depend on a number of things. These include your product strategy, the resources you have, and your business objectives. 
What are your secure remote access options?
We offer two ways of integrating secure remote access into your product:
Bundle VNC Connect
If time is of the essence, you could bundle an OEM version of VNC Connect with your application or product. This is a quick deployment, with no engineering resources needed. 
You will have all the standard features and security of VNC Connect which covers superior performance, attended and unattended support, and security including 256-bit AES encryption. Choosing this option will ensure a quick time-to-market launch. 
Bundling is a great solution for many companies, even with limited optimization possibilities. You can take a look at some success stories here. 
The VNC Developer SDK 
If a tighter integration of remote access is what you need, we have you covered. 
Our SDK (Software Development Kit) is a fully customizable software toolkit. It's versatile, cross-platform and can work via cloud or direct connection. It is also secure by design.
The VNC Developer SDK allows your team to completely customize your remote access capabilities. Furthermore, you can create VNC-compatible Viewer and Server remote control apps for various platforms such as Windows, Linux, Mac, Raspberry Pi, iOS, Android and HTML 5.
Integration examples
Our unique solution has been integrated with numerous products across industries. Here are some of the sectors that have used our remote access technology:
Healthcare
Consumer transactions
Managed service providers
IoT – Internet of Things
Manufacturing
Consumer Electronics
Financial Services
Fleet Management
Healthcare industry integrating remote access software
A global electronics company with a large healthcare division has used this integration, by building VNC Connect into MRI scanners. The embedded technology has allowed IT and medical professionals to access data from the machine easily. Whether they are in a different room within the hospital, or in a different city – access to the machinery and data has become a matter of minutes.
Similarly, another global healthcare company has built a VNC solution into heart scanners. This also makes supporting the device much easier. The VNC Developer SDK has been the chosen solution in this case, with the customization a fairly extreme one. The device in question has levers and scanners physically connected to it. Thus, customization was a necessity, as virtual versions of those devices were essential. More examples from the healthcare field can be found here. 
Consumer electronics
In consumer electronics, we have the example of a multi-billion dollar tier 1 MSO in North America. They have integrated RealVNC remote access software in over 10 million set-top boxes.
Each one of their customers, using those boxes, can now have quick remote support when needed. The IT support department can see what the customer sees and help them. This reduces the need for expensive call-outs and reduces shipping costs of product returns to a service centre. 
Remote viewing and control via a trusted connection makes things very simple. The support agent can even annotate the screen to show the user how to make use of a certain feature. 
More information on this integration is available in this document. The solution, depending on implementation, can also be used to provide virtual remote control for smart devices.
Interested in learning more about VNC Developer? Fill the form here and we'll get in touch. Together we can find the best solution for your team.