Remote working can increase employee job satisfaction and well-being. It can also increase productivity and reduce expenses, which is great for businesses. But distance also presents challenges, especially when employees work remote full-time.
The options for remote work technology, from remote access technology to videoconferencing and project management software, can help solve these issues. Technology boosts communication and collaboration, as well as supporting the successful management of remote employees.
In this article, we'll explore the following topics to help you choose the best technology for your remote team:
The current role of remote working
Just a decade ago, remote working was rarely an option. However, when Covid struck in 2020, it forced companies to adapt, often by pivoting to remote working.
This was made possible by work-from-home (WFH) technologies like remote access and videoconferencing, which allowed managers and employees to communicate and work from anywhere in the world.
Even when lockdowns were lifted, many companies have kept a remote or hybrid working model. For example, the previously mentioned McKinsey study also found that almost 60% of Americans have the option to work remotely at least part-time, while 35% can work from home full-time. This trend occurs across age groups and industries, though some industries are more suited to remote working than others.
For instance, computer and mathematical roles see the highest levels of flexible working, followed by business and finance. Roles that need physical interaction, such as food serving and production, see the lowest levels.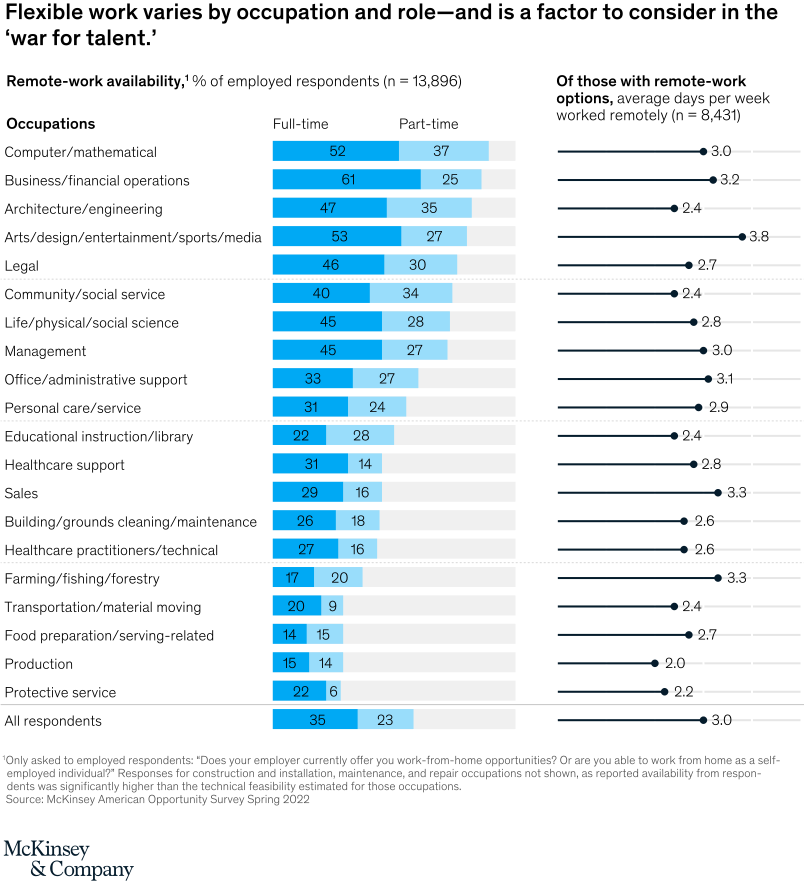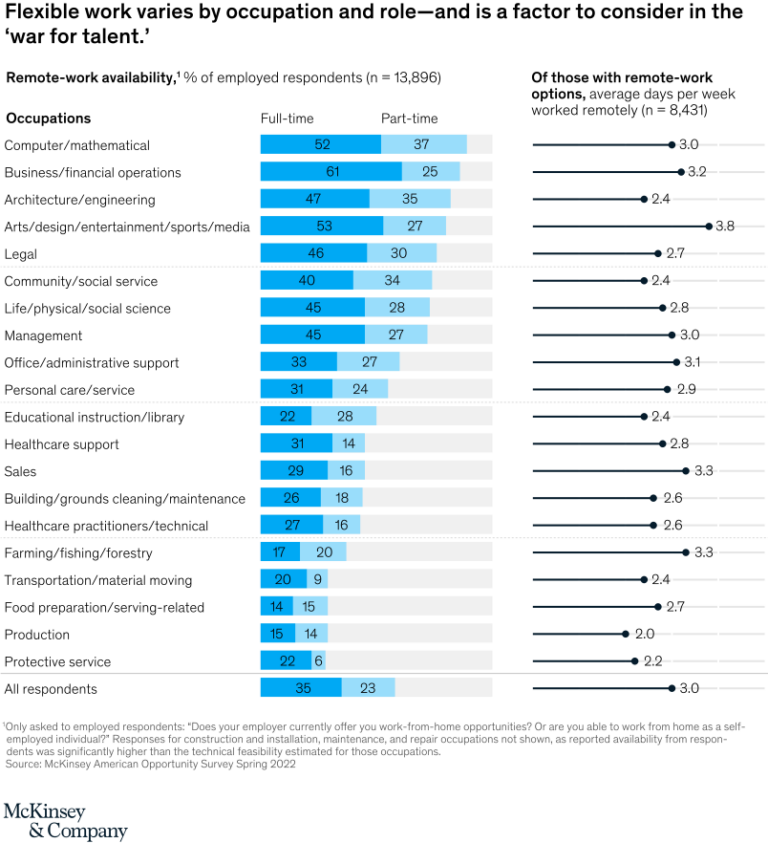 Although some businesses are still reluctant to embrace remote working, most employees now expect a degree of flexible working. It's vital to invest in technology for remote working now, or, you may start losing employees to your competitors. 
What needs must technology for remote working meet?
Remote working initially had a steep learning curve for many employees and employers. However, technology eased the transition and continues to play a vital role in facilitating remote working.
If you're looking to enable remote work long-term, it's essential to invest in software tools that meet three primary needs:
Communication and collaboration

Storage and file sharing

Tracking and management
Communication and collaboration
Your employees must be able to collaborate on projects whenever they need to. But, when your team is global, communication can be challenging.
To aid collaboration, you must invest in the right tools. Email is useful, but it doesn't allow the type of real-time communication you need to work together effectively. For that, you need software like videoconferencing and team messaging.
Your employees must also be able to communicate with your customers on their preferred channels, and technology can help here too. 
For instance, remote access software like RealVNC® Connect lets remote workers access your office's systems securely from anywhere. That way, they can communicate with customers via email, live chat, social media, and more while working from wherever they choose.
Storage and file sharing
Remote workers must also be able to access the same data and files as their colleagues. Sharing these files between the necessary colleagues is also essential.
Cloud-based storage is one solution. It allows everyone on your team to upload and transfer files without using email. Everyone can work from the same data, and some systems even let you work on the same files simultaneously.
Remote access solutions also let you transfer files, or copy and paste text on your desktop or mobile. Plus, you can print files from your office computer on your printer at home, which is ideal for hybrid workforces.
Tracking and management
Employees must be able to manage their time efficiently, while managers must be able to track employee progress and coordinate their remote teams. This makes time tracking and management tools essential.
Time-tracking tools help employees stay on the right path but also remind them to take breaks. Most tools also come with task calendars, in order to set up deadlines and meetings. Plus, you can accurately track time spent for better invoicing.
Time management software helps managers monitor the productivity of each remote employee. It also shows you exactly how long each project took so you can set realistic deadlines for future work.
Eight essential types of software for working remotely
Investing in the right remote working technology tools is vital if you are to succeed with remote working. Software tools let managers oversee their teams and help employees connect with一and get to know一their colleagues. They also enable remote onboarding and training.
On that note, here are eight types of software that are essential for remote and hybrid teams:
Cloud computing

Project management

Instant messaging

Mobile tools

Storage tools

Business apps

Videoconferencing 

Remote access and screen sharing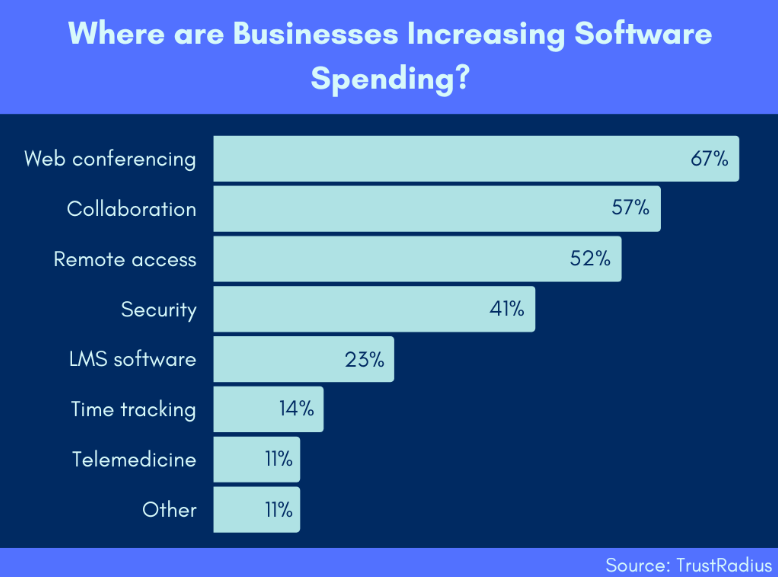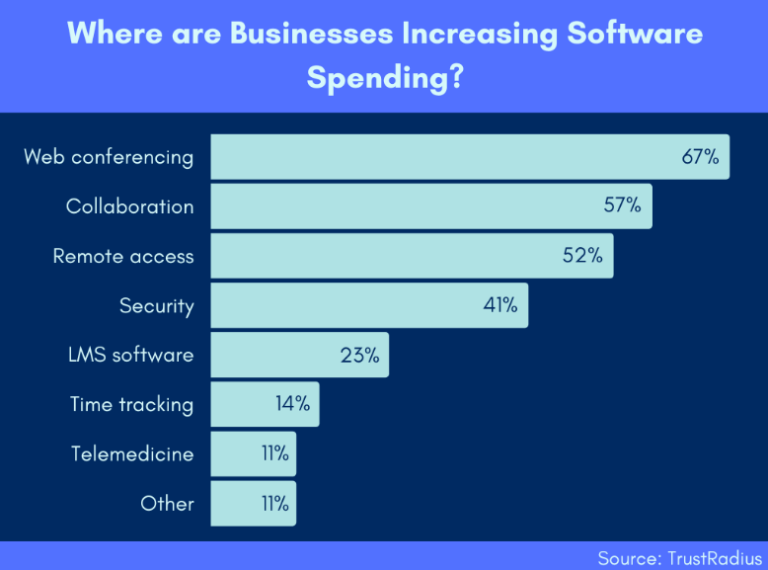 Cloud computing
Cloud computing is vital for employees that work from home. It allows them to access in-house infrastructure and equipment from anywhere using the Internet. It also gives them instant access to the data and applications they need to work and collaborate efficiently.
Cloud-based architecture is flexible and scalable. This means you can add and remove functionality and users as needed. You also don't need to invest in new equipment or maintenance, so it's a more cost-effective option than on-premises architecture.
Furthermore, cloud computing comes with a range of security features to keep your data safe. Examples include two-factor authentication (2FA), encryption, and access controls.
Project management
Project management tools are essential for remote collaboration. Managers can assign tasks, set deadlines, and coordinate teams from a single platform.
You can also track the progress of different projects as well as the contributions of each team member, allowing you to accurately estimate timelines and set realistic deadlines.
Project management tools also help employees by enabling communication between team members, as well as with managers. Some tools also come with visual collaboration features, such as whiteboards, and reminders of important milestones to help you stay on track. 
Instant messaging
Videoconferencing is great for team meetings and training. But it's not so good when you need to send a quick message. Global teams can also make scheduling voice or video calls difficult.
Instant messaging (IM) apps let you create one-to-one and group chats for quick, efficient communication and file sharing. Most apps also come with filters and search features to make finding the message or attachment you need easier.
You can use a specific instant messaging app, but other apps often also include IM features. For instance, VNC Connect lets professional and enterprise users chat in real-time. It's as simple as clicking the Start Chat Session button (🗩) in the toolbar.
Mobile tools
Remote working has led to a greater dependence on laptops and mobile devices for work. So, it's essential that you support mobile as part of your remote working technology plan.
For example, make sure the apps you choose work on both desktops and mobiles. Also, if you use a Virtual Private Network (VPN), ensure it works on all your employees' devices to safeguard your sensitive data.
You can also give your employees a portable Wi-Fi device so they have a stable Internet connection wherever they work. These devices are pocket-sized and inexpensive, so they're a good option.
Storage tools
When your team works remotely, they need access to an online data store to upload and download files. A cloud storage tool is the perfect solution, as your employees can access the data and files they need on whichever device they're using.
Using a cloud storage tool means all your employees can access the same information. Users can edit files together, aiding collaboration. And most providers offer a certain amount of free storage.
In addition, cloud storage tools make file sharing a breeze; it's easy to grant access permission to whoever needs it while keeping files secure.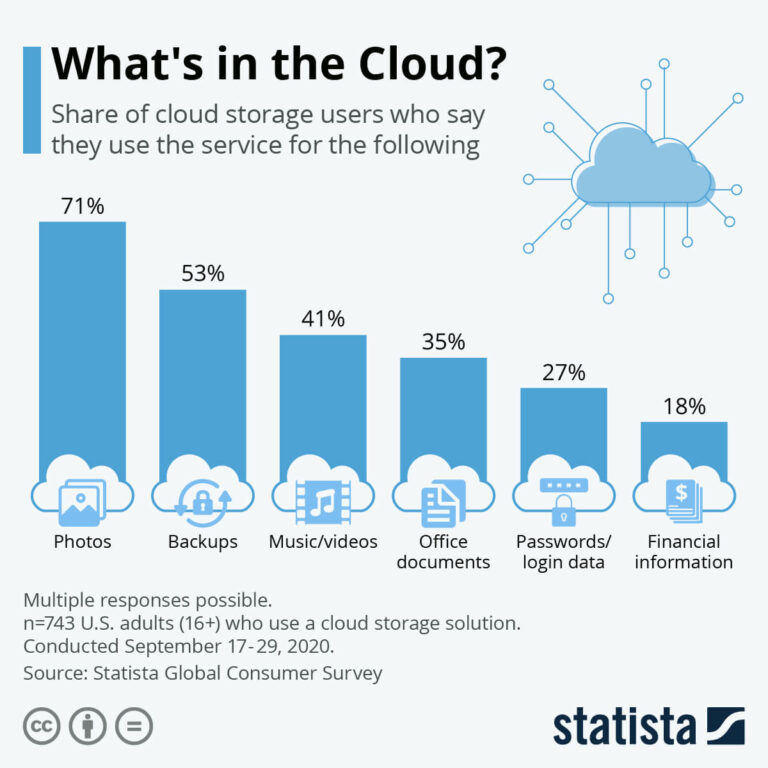 Business apps
It's also a good idea to invest in cloud-based business apps. These apps are online rather than on a specific device, so you can access them anywhere, anytime. This also increases efficiency, as your remote workers won't be confined to office hours (which would otherwise be problematic if you have employees in different time zones). Furthermore, cloud-based apps enable real-time collaboration and communication.
Alternatively, you can use remote access technology to give your remote workers access to the business apps your company already has. This is often a more cost-effective solution, especially if your employees only work remotely part-time. 
Videoconferencing
It's essential your remote workers have access to videoconferencing technology. The ability to communicate in real-time, makes this the next best thing to an in-person meeting.
With videoconferencing, you'll see all the non-verbal cues that aid communication, and it's more personal than speaking on the phone. You can also demonstrate things visually and record sessions for future reference, both of which are great for training.
Finally, you can use videoconferencing to hold social gatherings and virtual events that help to combat the loneliness remote workers can feel and support team-building.
Remote access and screen sharing
Remote access and screen sharing provide access to business systems and data for your remote workforce. 
By allowing file retrieval and application use, these tools ensure uninterrupted productivity and collaboration. Additionally, screen sharing allows employees to conduct virtual meetings and give dynamic presentations. 
Remote access and screen sharing are also essential for remote help desks, which reduce downtime and accelerate the resolution of technical issues.
It's important to understand advantages and disadvantages before choosing a remote working technology tool to provide remote access for your business. 
Best practices for choosing remote work technology
Remote working technology is a significant investment, so it's vital you choose the right software. That means comparing different solutions and providers, focusing on the following areas:
Cost

– is the solution cost-effective?

Scalability

– can you scale the solution up or down as needed?

Security

– does the solution keep your data secure?

Accessibility

– is the solution easy to learn and user-friendly?

 
Cost
Unfortunately, the cost will influence the software you choose for your remote workforce, especially if you're a small business. However, the cheapest solution isn't always the most cost-effective in the long run.
Look for tools with tiered or custom pricing so that you can add more users or features as your business grows. Some tools also come with a free version or trial period so you can try it out before you commit.
It's also more cost-effective to invest in a unified platform, rather than lots of separate tools. For example, instead of using separate videoconferencing and IM software, look for a unified communications platform that offers multiple remote working tools. This will also remove the complication of integrating multiple tools.
2. Scalability
Your company may have been working remotely for many years, or you may still be trying to figure out how to make this function for you. Either way, your remote working strategy is likely to evolve over time. Your workforce is also likely to grow and become more distributed as your business expands.
You need to ensure the tools you choose are flexible enough to meet your current and future needs. You also need a provider that can help you keep up with emerging trends, such as virtual reality (VR), artificial intelligence (AI), and the metaverse.
3. Security
Remote working can be a security risk. Your employees will be connecting to your on-premise and cloud-based systems from their home networks and devices (or, worse, the Wi-Fi at their local coffee shop).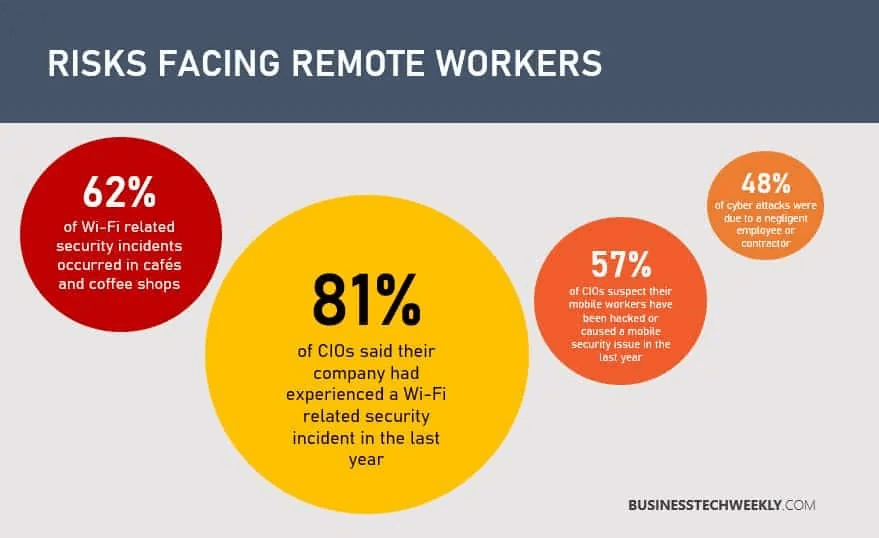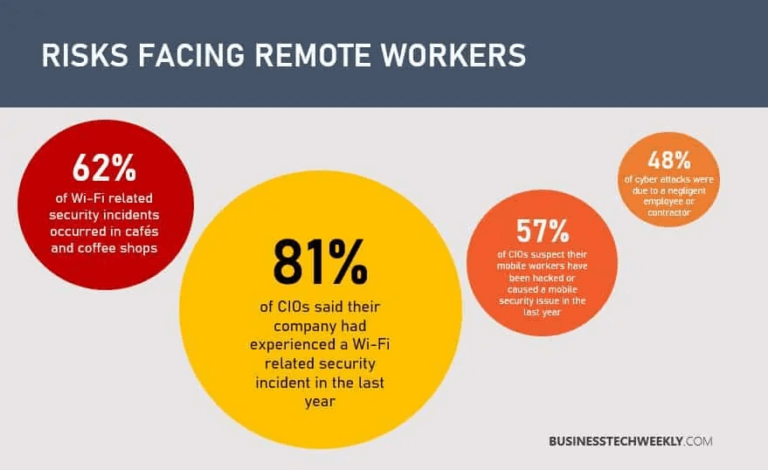 To keep your data and systems safe from hackers, you must ensure your remote working technology has robust security. For example, RealVNC Connect uses end-to-end encryption and multi-factor authentication, among other security technologies, to keep your connection safe.
Look for a solution with access controls, encryption, and at least 2FA. It's also important to make sure it complies with government regulations around data privacy and security, both in the US and abroad.
4. Accessibility
Lastly, you need to consider how easy your new tools are to learn. The user interface should be intuitive and easy to navigate. There should also be 24/7 support so that your employees can always find help, no matter which timezone they're in.
A bit of a learning curve is inevitable, so look for vendors with comprehensive how-to guides, FAQs, and video tutorials. You could also schedule a virtual training session to go through the new system step-by-step.
Make sure to ask for feedback from your remote workers during any trial periods to see if they think the tool will work for them. 
Meet your remote working technology needs with RealVNC®
As you've seen, there is a range of technologies available to support remote teams. The combination of tools that's right for your business depends on several factors, such as:
Your remote working model (fully remote or hybrid)

The size and location of your team (for instance, the same timezone or different timezones)

Your business goals (short-term and long-term) and budget

Your company's current level of digitization

The technical skills and preferences of your employees
RealVNC Connect lets you access and manage any device from any location, allowing you to utilize the devices and tools your company already has. 
With robust security and out-of-the-box customization, you'll get a secure, scalable, and tailored solution to support your remote workforce. Boost productivity and foster collaboration with a responsive, reliable platform一and make the most of your existing assets.
Start your free 14-day trial and see how RealVNC can help your remote workforce thrive.
FAQs about remote working technology
What is remote access technology?
Remote access technology lets you use a device from anywhere using your Internet connection or VPN. This makes it ideal for remote working, as it allows you to do everything you can do in person.
Two of the most common types of remote access technologies are Remote Desktop Services and Remote Access Software (like VNC Connect). 
How does technology enable remote working?
There are many ways technology enables remote working. For example, videoconferencing and instant messaging tools let remote teams communicate in real time and asynchronously. This allows them to collaborate as if they were in the office.
Remote access technology and cloud computing let remote workers easily access and share files. Mobile tools let employees work wherever and whenever they choose. And project management and time-tracking tools help them stay efficient and on track.
What is remote technology?
Remote technology is any tool or piece of equipment that lets employees work from anywhere over WiFi or a mobile network. Examples include remote access, cloud computing, and project management software.
Remote technology aids communication and collaboration, even across time zones. It also lets companies recruit and onboard new employees from across the globe, giving them access to a much larger talent pool.