When RealVNC began in 2002, our ground-breaking proprietary cloud technology disrupted the market. We invented something that changed lives. Whether enabling healthcare teams to perform critical operations remotely or allowing visually impaired children to access the whiteboard from anywhere in the room, we empower organizations with VNC Connect.
What is VNC Server for Mobile?
RealVNC's VNC Server for Mobile further extends the functionality of VNC Connect, letting your business quickly and securely connect to and view mobile devices from anywhere.
The new app is now available to download from the App Store (for iOS) or Google Play Store (for Android). Once downloaded, you can connect to mobile devices in two ways:
(1) Use Device Access to view your mobile device screen
(2) Use On-Demand Assist to view your mobile device screen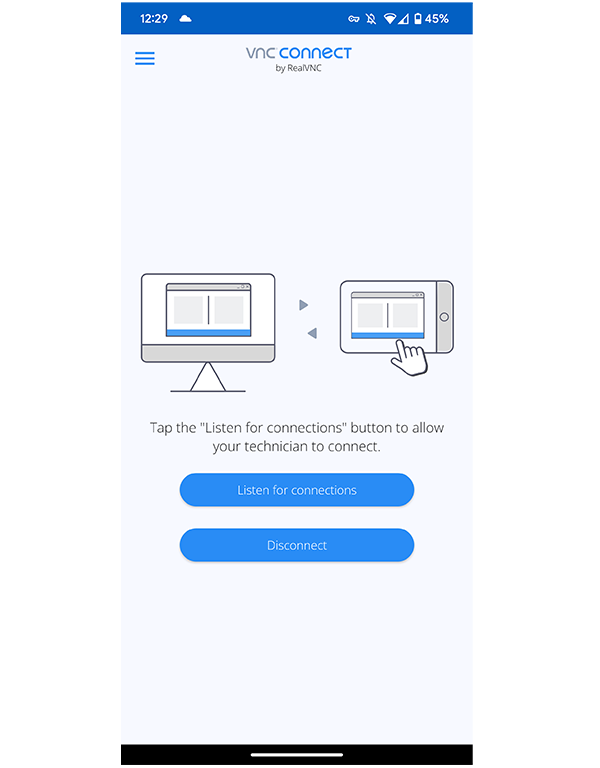 What's the difference between the two?
VNC Server for Mobile allows you to connect using our Device Access or On-Demand Assist capabilities.
You can use your Device Access subscription to deploy and license VNC Server on your managed mobile devices, using either Microsoft Intune or another MDM (depending on subscription).
With our On-Demand Assist capability, you can launch a quick-start session via a 9-digit connection code to any mobile device running the VNC Server mobile app – note that the mobile device does not need managing via an MDM.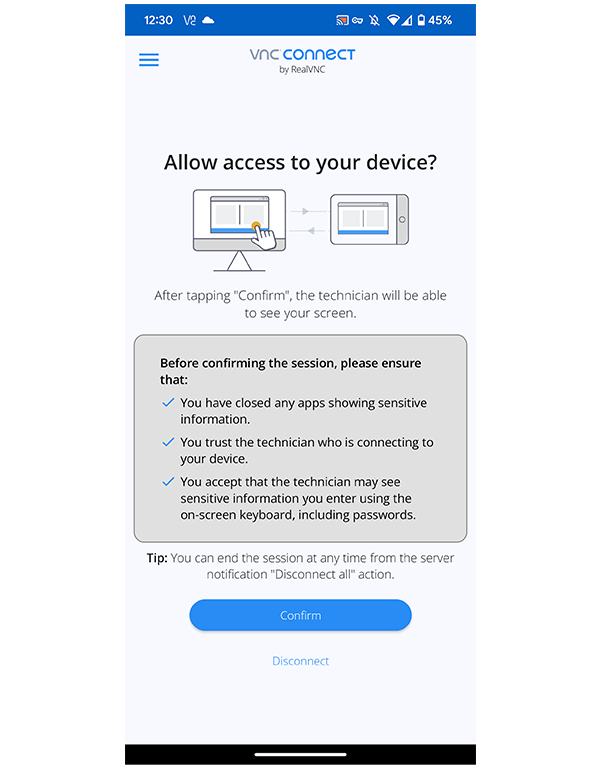 A world of possibilities with on-the-spot assistance
Finding the fix to an end-user's technical issue remotely can be challenging. Support agents  often find themselves going back and forth, either trying to understand more detail from the end-user or relaying instructions for fixing the problem.
VNC Server for Mobile gives you attended access to mobile devices running Android and iOS/iPadOS, meaning support agents can now provide better remote support to mobile users. IT teams can get a real-time view of devices, giving them more context and helping them identify and fix the issue sooner.
The VNC Server mobile app will benefit your business by:
Reducing the time spent deciphering support tickets
Cutting out costly back-and-forth correspondence
Identifying the issue and find the fix sooner
Offering a more informed, contextual support experience
Improving time-to-resolution, and increasing service levels
Ways you can use the VNC Server mobile app
With a new world of remote support to uncover, here are three possible use cases where VNC Server for Mobile allows organizations to solve problems – quickly and securely connecting to mobile devices, from any location.
IT support for companies with sizeable mobile device fleets
Enterprises tend to have large fleets of mobile devices to manage. The frustrations of attempting to resolve mobile issues without being there can lead to multiple inefficiencies across the business. Guesswork often plagues support agents, who are trying to respond urgently, and the commodity of time becomes more valuable.
Developers no longer have to wait to be able to analyze and solve real-time user problems. Business development processes can suffer setbacks when there are time delays in testing and feedback.
Supporting payment devices remotely
Android's presence within different technologies continues to widen, including POS devices. Businesses that transact can reduce payment downtime by enabling support agents to access payment devices securely and promptly resolve issues from wherever they are.
The same strong security, with the added reach
You will undoubtedly know that RealVNC adopts a strong stance on security. Security is at our solution's core, meaning you can enjoy peace of mind with the VNC Server mobile app.
By design, we treat every connection as though it originated in a hostile environment. We ensure strong security by ensuring that sessions are always end-to-end encrypted at 256-bit AES as standard. You can read more about our approach to security in this blog post.
Summarizing the key features
The VNC Server mobile app is an extension of VNC Connect. It lets your business quickly and securely connect to mobile devices from any location.
This new product update:
Supports both Device Access and On-Demand Assist
Protects from unwanted access with end-user approval
Provides out-of-the-box security and fully encrypted sessions over the cloud
Where to find more in-depth information about the VNC Server mobile app
You can discover more information about RealVNC's VNC Server for Mobile on the FAQ page.
As we head towards the end of 2022, we plan to roll out many new features and improvements, so make sure you sign up for our email list to hear about the latest announcements.
Enjoy!
The RealVNC Team