As more of Europe started to shut down and move toward home working if possible, we knew that the UK would be next.
Browsing the news on breaks, discussing the vast spread of the outbreak while making ourselves a cup of tea, and wondering how it would affect our own lives, we watched the data and news conferences with growing trepidation. We knew it had reached us, had seen the figures rise daily. We also knew what was happening with coronavirus in places no longer on the other side of the world and home to some of our colleagues' families, where its invisible advance had halted any semblance of normal life.
I started working at RealVNC last summer. I was excited to get hired on as copywriter, and nervous about who I would be working with in my new country. It quickly became evident that my team was a great fit, and that each department within the company helped to make up a tight-knit staff that was united in its commitment to research and innovation.

One of the biggest reasons that I enjoy working for this company so much is its culture. There is always someone nearby who is willing to have a friendly chat, and there are others who have immigrated to this country whose challenges I recognize as my own. We all worried for our loved ones – near and far – when it was obvious that not much stood in the way of the rising wave of illness coming towards this country.

We started getting regular communications to help ease our fears, to point us in the direction of the most recent health advice or any help we may want to access, and to offer us individual support. Our CEO, Adam Greenwood-Byrne, wrote many of these emails himself, and took the decision to trial working from home for the entire company on the following Monday. This step was taken before any official government advice, a carefully considered anticipation of what was coming. We would see if we could practice what we preach.

Each of us was given time and help to safely collect what we needed from our desks (including the temporary adoption of many plants) and said our goodbyes.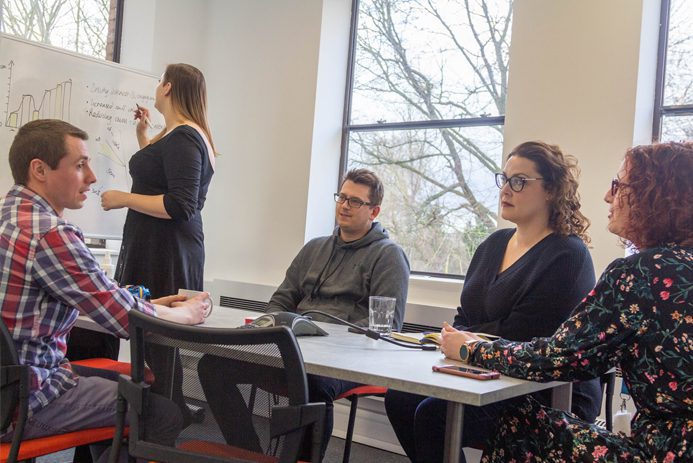 At the time of this writing it has been two full weeks that we have all been remote working. There have been some minor technical difficulties, but they have quickly been remedied by our helpful IT staff. It would also be fair to say that every department has been flat-out busy, and I think we have risen to the challenge much easier than expected. Our engineers are still utilizing their freedom to learn, create, and refine our product within this flexible working arrangement. All of us alike are finding it easy to immediately collaborate on our projects, and we have even implemented a weekly video quiz to replace our cake day at the office. Teams check in via video, and our systems allow us to seamlessly share information and stay wholly connected.

This crisis has meant that it's been hard to focus, hard to do much aside from look after our families and loved ones, and ourselves. Some of us have needed some time out for a walk outside or a small break as we adjust to having children or partners at home, working alongside us. Worrying about the unknown and self-care take massive precedence over our thoughts. And all of that is normal. Each of us took the necessary steps to reconfigure our own lives, and still dedicated the time to our work so that we could continue to function as a whole.

Being 7500 kilometres away from my own parents and siblings in Canada has felt even more difficult, particularly when the borders closed. But because I have cultivated such strong relationships with my teammates, I am getting through this much more easily. I have scheduled meetings to see colleagues face-to-face where we check in on each other and laugh at silly jokes, our messaging system allows for a constant stream of communication, and I know that I can get any support I need from our caring HR team.

"Ethos and empathy" are two words that Adam wrote to us in a further update. We want to emulate these ideals, and I think we are. We have chosen to donate to three charities for the duration of this lockdown. Our Support and Customer Service teams are working incredibly hard to help worried or frustrated customers. Our Sales teams are working to offer assistance and the correct tools for clients who urgently need a remote access solution and don't know where to begin. Our Engineering teams are steadily improving the product to make its use as smooth as possible. Our Systems team are adding new core nodes to better manage the considerable increase in simultaneous connections, and the accompanying image really complements all that we are trying to do here.

No one knows how long this lockdown will be in place. But our business continuity plan has remained solidly in place and unaffected by these changes. Each of us works in tandem every day to balance the rising requirements of our job as the world adjusts alongside us to this new way of working. Things will most certainly get more difficult in our personal lives before they get better, but we can count ourselves lucky to be able to count on the stability of our professional routine and our shared camaraderie, even if from a distance for the time being.