The best part is that the Android VNC app couldn't be easier to set up. Here's how to do it and remote control your PC with VNC Connect in no time. Of course, there are many more very useful things you can do with VNC Connect, as you can find out here.
VNC Viewer Android tutorial
You've started your daily commute. You're on the train already, but that idea that you forgot for the project you're working on has just come back to you. If only you could access your home machine and do those two edits… Well, you could always connect to your PC using VNC Viewer for Android and perform the modifications straight away. 
This quick tutorial will show you the VNC Viewer Android setup, so you can remote control your PC in no time. Of course, you will need to already have VNC Server on the PC. If you have already signed in with your account, your PC should show automatically. If not, you will need its IP address. Anyway, you shouldn't have a problem getting that information from VNC Server.
With that said, start by installing the Android VNC Viewer app from the Google Play Store, here. Once it's installed, open VNC Viewer for Android. Tap the menu button on the top left side of the screen and Sign in with your RealVNC account details.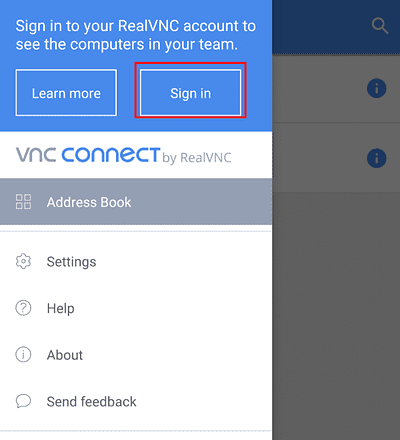 Once you've done that, the machines on your team should show up on the main screen of the app.
If there's a machine that doesn't show up, you can always tap the + button at the bottom right side of the screen. You can then add its details.
How to use VNC Viewer for Android
At this point, things couldn't be easier. Find the machine you want to connect to and tap it. If you've set a password, you will need to enter it (or enter the credentials for the machine, by default). While you can use the Viewer in portrait mode, landscape might be a better idea.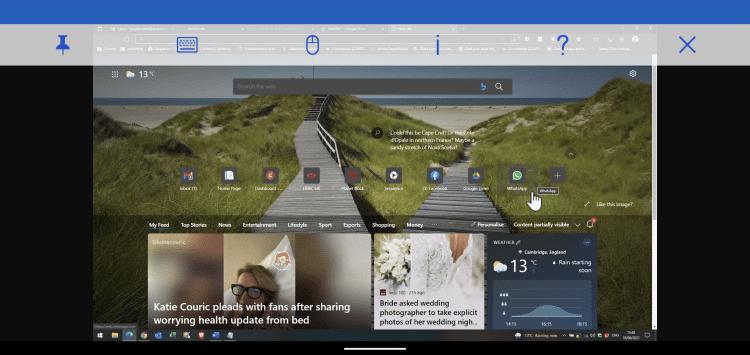 You can use finger gestures – like zoom out with two fingers to see the whole screen. Other than that, you're free to use the machine in question as if it were a touchscreen device. A toolbar (which you can pin to the top) gives you access to the main features. You have a Help button, explaining the main gestures. There is also access to the details of the connection and you can alter the picture quality if need be.
VNC Viewer for Android is a very simple way of getting to your machine on the go, with a minimum of fuss.
And if you haven't yet tried VNC Connect, no time is better than the present. We offer a free 14-day trial!