The VNC Viewer iOS app couldn't be easier to set up and it will help you access your devices in a quick and easy way. Here's how to set up VNC Connect for your iPhone or iPad, so your PC is just a tap away. Of course, there are many other useful VNC Connect features, which you can take a look at here.
VNC Viewer for iPhone download and setup
Martin sometimes uses VNC Viewer on his home PC to access his work machine, running VNC Server. That way, if he has an idea that he needs to add to his presentation after he's home, he won't lose it. However, this morning he has an even better idea, but he's away on a business trip, between two meetings.
Luckily, Martin has the VNC Viewer app installed on his iPhone. Therefore, he can make the change before his business partner arrives for their lunch. By the time he's in the office, his colleagues already have the new version of the presentation.
If you want to be like Martin and save precious time, VNC Viewer for iOS is the way to go.
The first thing you'll need to do, before getting started, will be to download the VNC Viewer iOS app. You can do so straight from the App Store; the VNC Viewer iPhone download is free.
The first thing to do after downloading the app to your iOS device will be to sign in to your RealVNC account.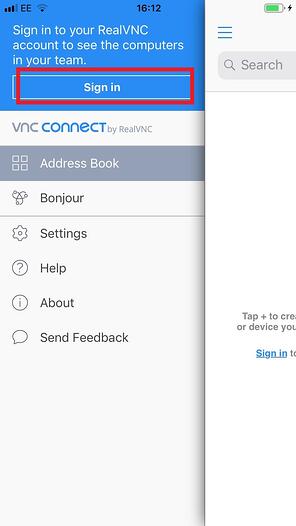 Seconds later, all the machines in your account will show up on the screen. Tapping one will allow you to access it.
Depending on the type of security that you've set up, the app will ask you for credentials. VNC Connect offers various types of authentication systems. This is why it could be, for example, your VNC password, depending on how you've configured things.
Using the VNC Viewer iOS app
Once past the authentication stage, the VNC iOS app will connect to the machine in question. Finger gestures allow you to move around the screen and confirm what you want to do.
Even better, the handy toolbar gives access to commands. You can also tap the dedicated button to find out specific session information.
If you go back to the main menu – tap the button on the top right side to get to it – you will be able to also connect via Bonjour.
The VNC Viewer iOS app is a great way to get to your machines on the go, as if you were there.