Add a powerful remote desktop manager to RealVNC Connect®
With a remote desktop manager (also known as an RDM), you can create a seamless remote desktop experience for remote employees and streamline IT administration tasks.
Manage remote connections, automatically log and process different access requests, optimize security, and keep everyone working productively without addressing each remote connection individually.
If this sounds like what your business needs, look no further. RealVNC® has what you need–and we'll show you exactly why.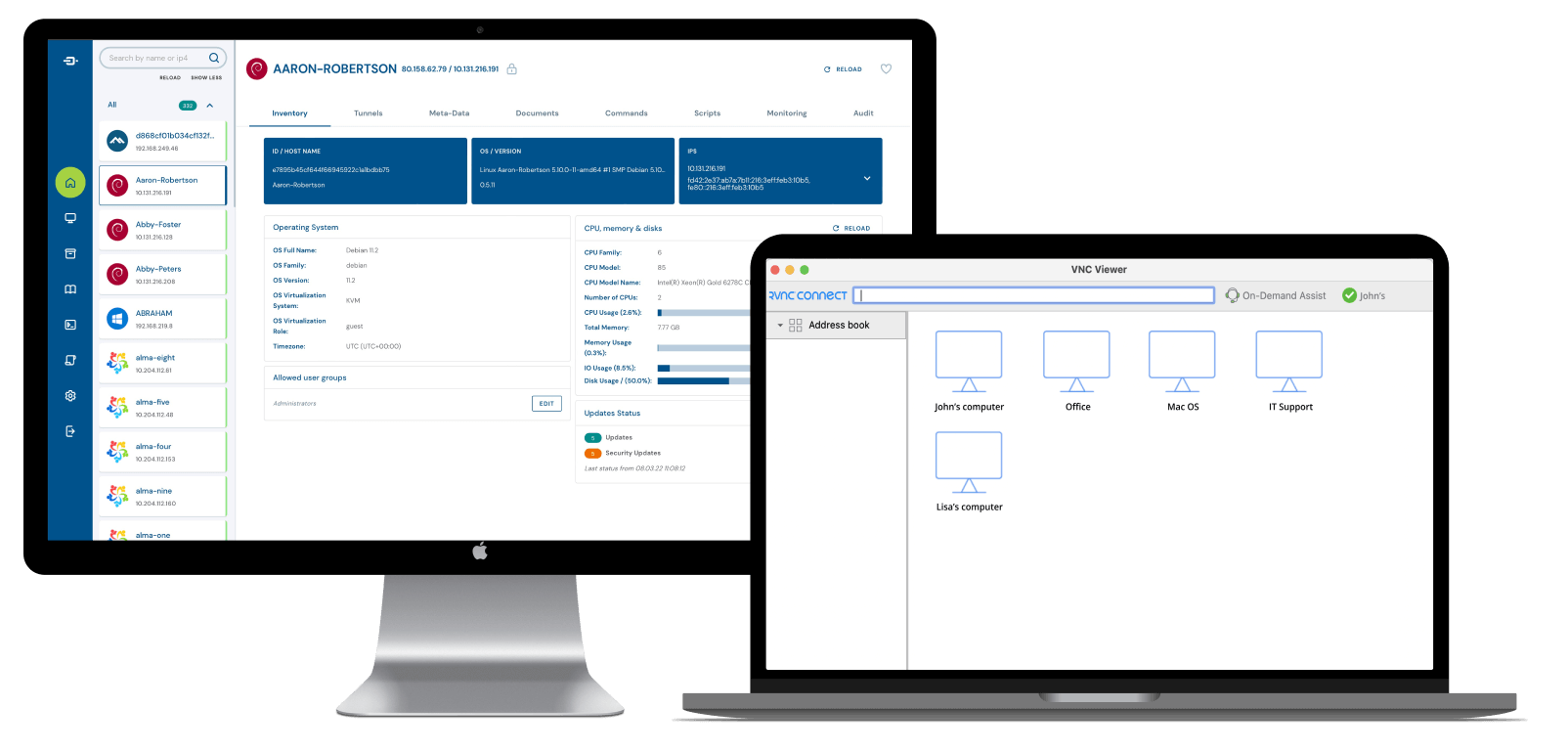 Why choose RealVNC's® RPort remote desktop manager?
With RealVNC's RPort, remote management is easier than ever. We've outlined some of the wide host of benefits it offers to give you a clear idea of what you can gain.
Centralized device management
With RealVNC's remote desktop manager, task managing remote desktops is simpler than ever. RPort allows you to access and manage all your devices from a single, centralized hub, streamlining management and saving you time. This is particularly useful when you're managing a large number of devices, which would otherwise require a lot of time and energy.
With centralized device management, you will also always know where to go when you need to connect a new device or troubleshoot an existing one. This further saves time and makes it easier to enact solutions.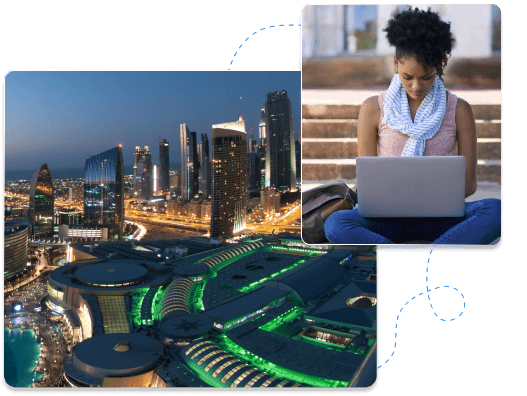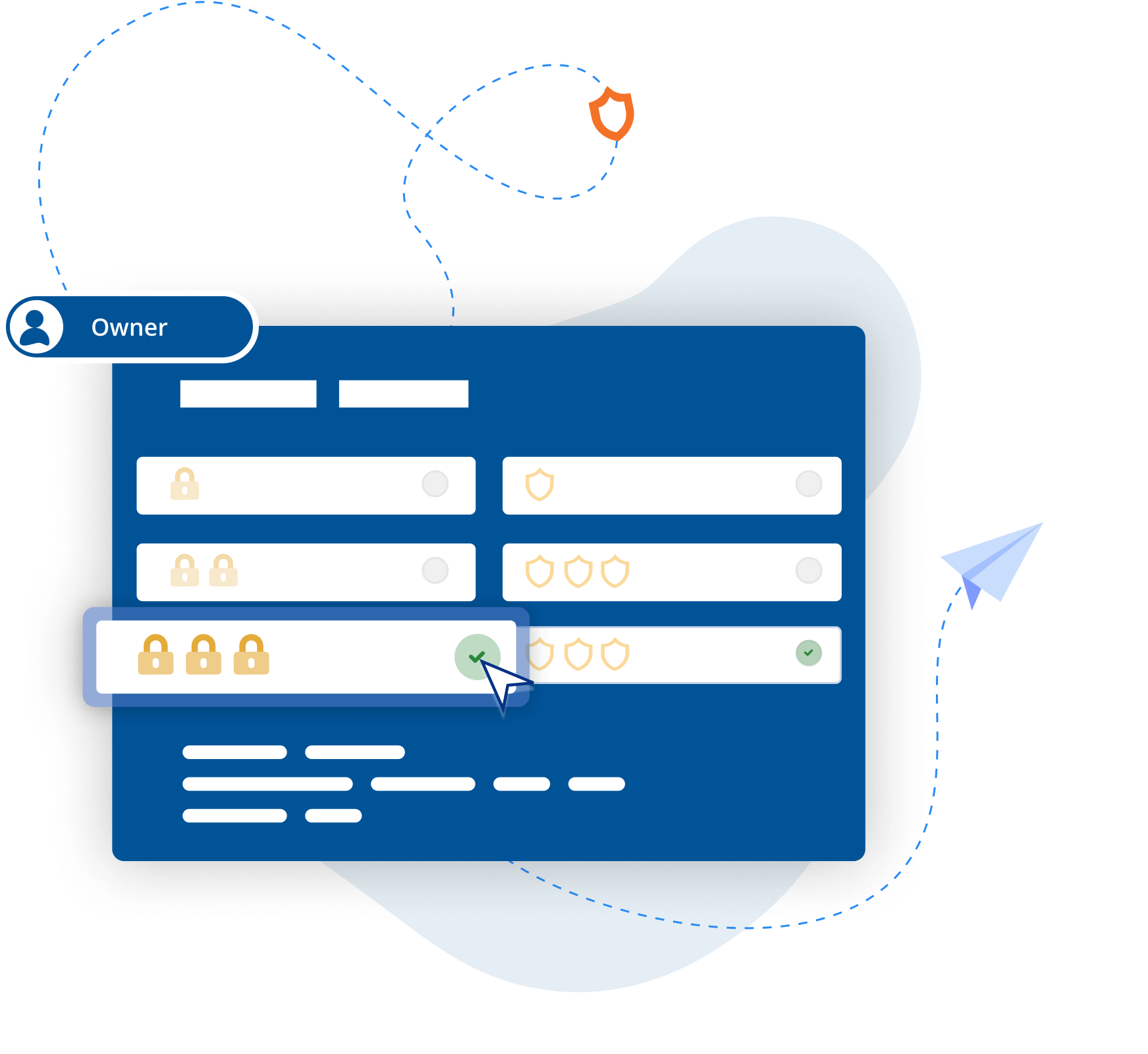 With remote employees able to work from anywhere, it's important to always use strong security measures. RealVNC understands this; that's why our security is as robust as possible.
A recent security audit conducted with Cure53 confirmed this, too. We conduct audits regularly to check and double-check that we're doing everything we can to keep you and your data as safe as possible.
This means that you get to enjoy complete safety no matter where your employees are working from. We've got your back with robust security protocols, keeping your data safe regardless of whether employees are connecting from spotty home office WiFi or unsecured coffee shops.
Countless, multi-platform endpoints
Any remote access connections manager should make managing numerous endpoints as easy as possible for your IT department. This is why RealVNC's solution gives you the option of working with as many endpoints as you need to. It also supports multi-platform endpoints, so you can confidently use our remote desktop manager with Mac or Windows PCs.
You can also access endpoints without starting a RealVNC Connect session. This makes management even simpler and maximizes convenience on your end.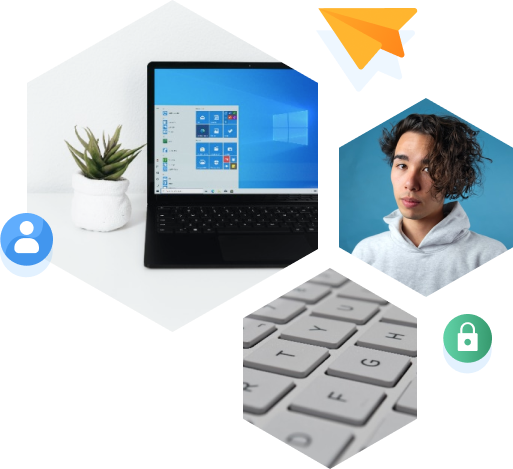 Graphical user interfaces (GUIs) can be useful, but it's also important to be able to access and manage desktop connections without relying on them, particularly if you're working with devices that run on Linux in any capacity. 
RealVNC's non-GUI access option ensures that all our remote desktop manager tools are just as easy to use with a GUI as without. This allows you to be as flexible as you want to in terms of equipment and hardware.
Doing everything manually is time-consuming and leaves you open to making mistakes. RealVNC lets you build and run automated scripts to optimize your teams' workflows.
The high degree of script customizability allows you to create your ideal solution instead of making do with what's available. This ensures that RealVNC provides a remote desktop management solution that can always meet your needs.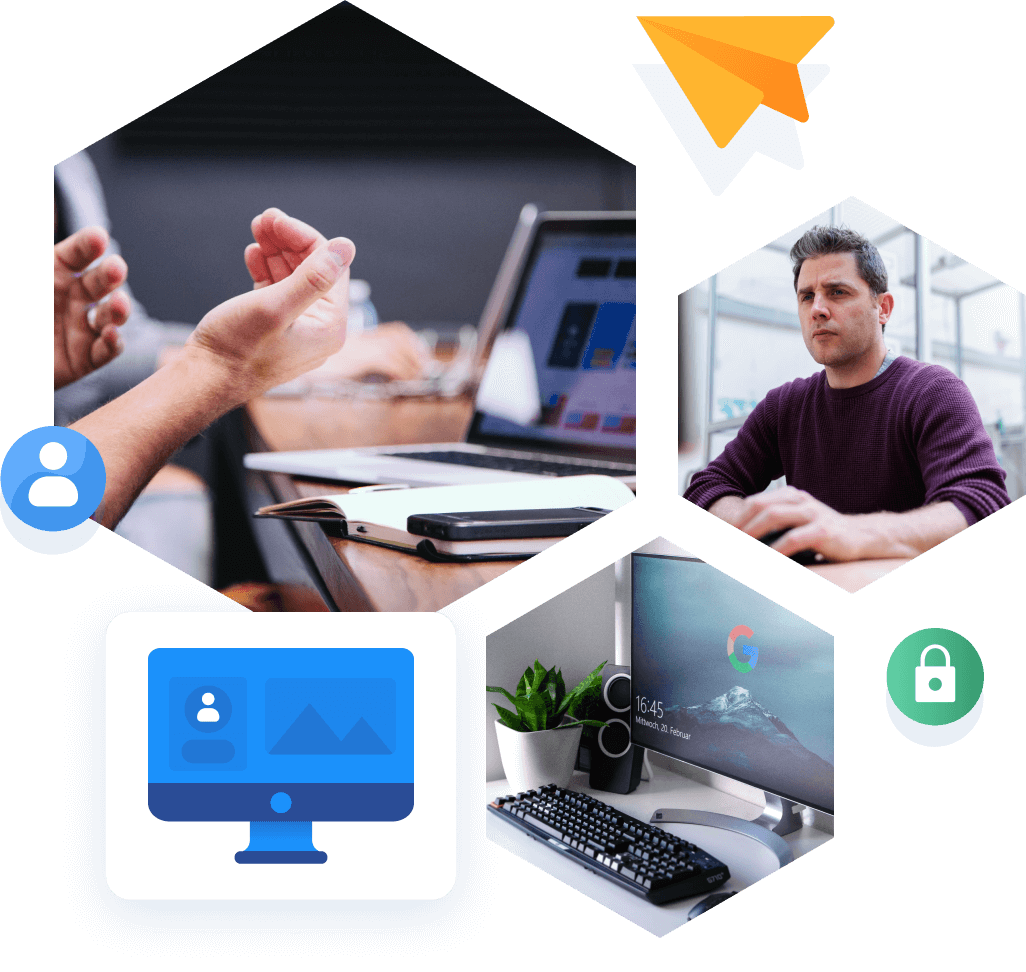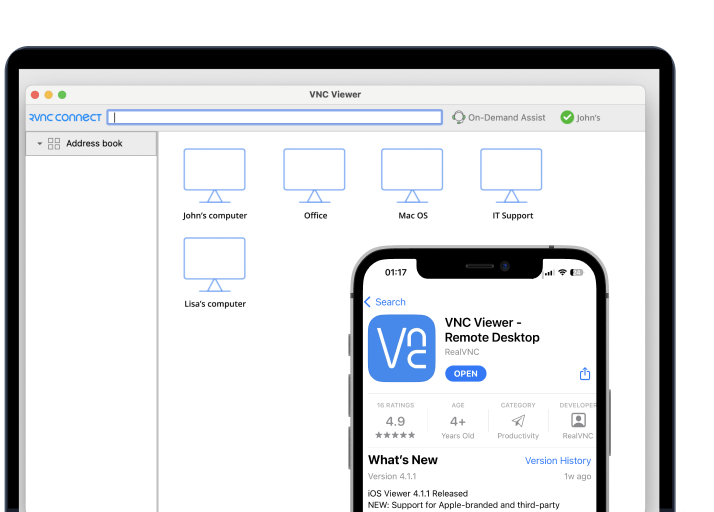 Keeping everyone's devices up to date just got a whole lot easier. Instead of chasing employees to ensure they implement important updates, you can use RealVNC's solution to simply complete them automatically. This ensures all your devices are always up-to-date, supporting optimal and secure operation.
We aim to provide a remote connection manager that's simple and convenient in every way. RealVNC's user-friendly interfaces and supportive, flexible software make setting up, managing, and adjusting connections for remote desktop services (RDS) a seamless process, no matter the size of your enterprise.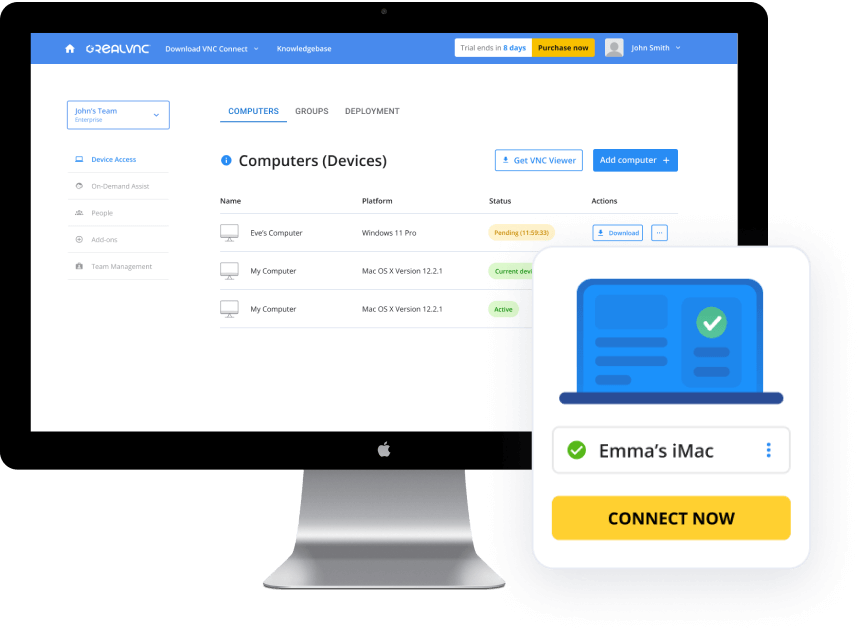 What are the benefits of remote desktop management?
As customers like Telesat Canada can confirm, our remote desktop manager software offers a wide array of benefits.
RDM software can help you to mitigate security risks. A good remote desktop manager tool should provide protection for your data and connections, preventing malicious outsiders from gaining access. They'll also come with robust protocols that protect you in the event that something goes wrong.
Keeping track of your remote assets is a cinch when you use RPort remote manager software. Automate software updates to fortify security and increase efficiency, manage routers, printers, and other devices from one on-premise or remote location without needing to start a remote session, and use the RDP manager to ensure all remote access connections are effortless.
Internal systems keep things running, and if they're in disarray, your internal affairs will be too. An RDM solution ensures you're able to keep those systems running smoothly. It lets you cut away unnecessary processes and automate workflows so that human efforts can go towards more complicated and original tasks.
With remote desktop manager tools, your IT department can automate repetitive and time-consuming tasks, for example, processing remote access requests from remote and hybrid employees. This helps them boost efficiency, optimize their work hours, and focus on more productive tasks.
Essential remote desktop manager software features
When looking for a remote desktop management solution, these are the key features that you should make sure are included.
Software that is designed to make your life easier shouldn't be hard to use. When choosing an RDM, make sure that the user interface is designed with ease of use in mind and has a shallow learning curve to allow your employees to become comfortable using it as quickly as possible.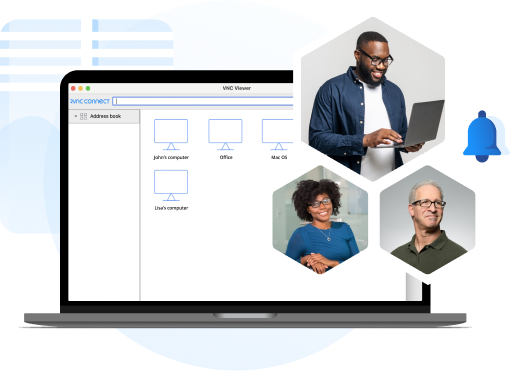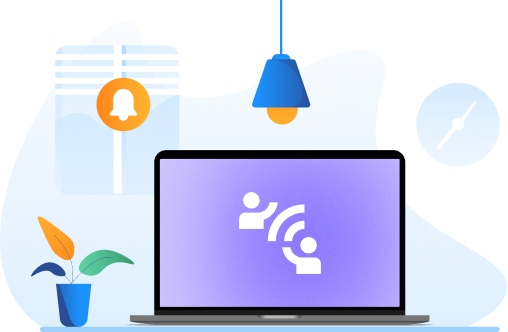 An RDM should give you the freedom to easily manage all kinds of connections. So why limit yourself to either a Windows remote desktop manager or a remote desktop manager for Mac? RDM solutions that incorporate a multi-platform feature will ensure that there's no limit to the devices, platforms, or operating systems you can manage.
Safety is paramount. Your remote desktop manager of choice needs to prioritize it and keep everyone who uses remote device access fully protected. Look for end-to-end encrypted connections, privileged IP access for authorized users, and simple kill switches to terminate unwanted or unsafe connections.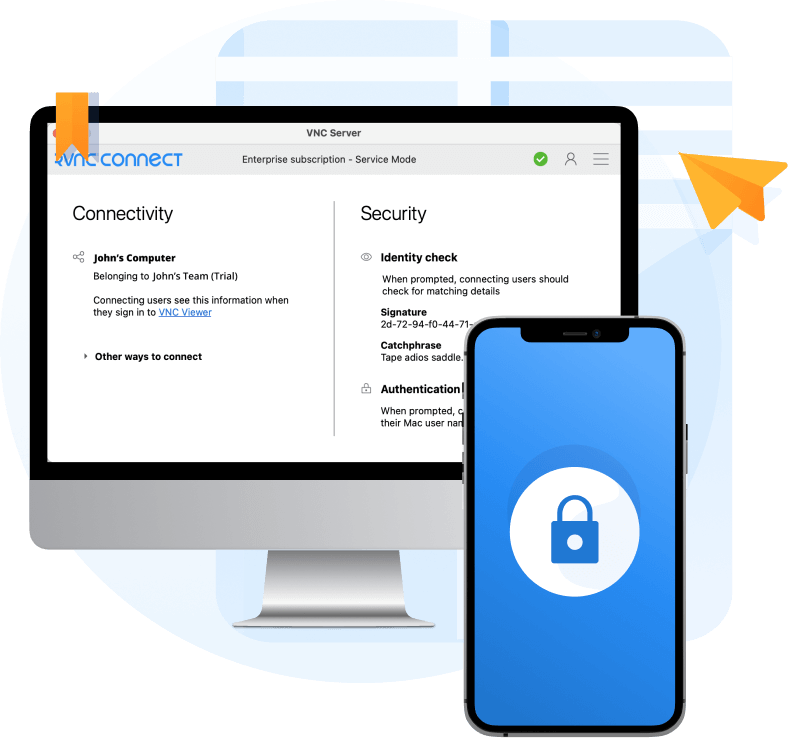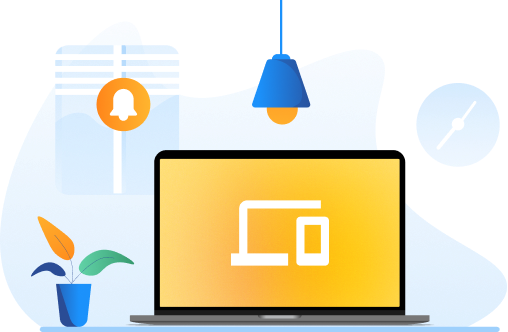 A remote desktop management tool should support screen-sharing to help IT teams offer remote support and assistance. As RDS managers, your IT team will need to deal with any issues that arise. Screen sharing simplifies issue diagnosis and accelerates resolution.
The point of remote device management is to increase convenience and efficiency. A centralized hub allows IT Teams to manage connections and install updates from a single interface. Central connections also allow for swift and simple switching between sessions, making managing multiple connections even easier.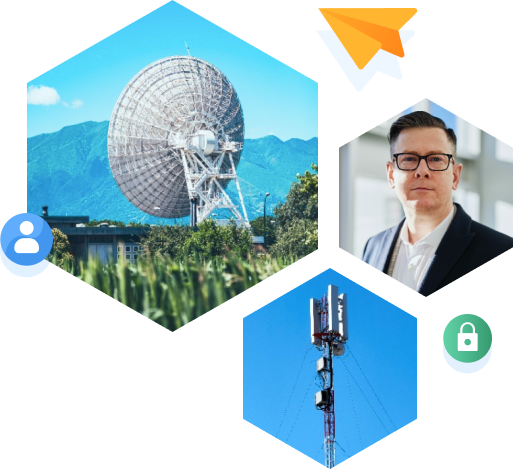 RealVNC RPort remote desktop connection manager download
RealVNC RPort with VNC Connect provides everything you need in a remote desktop manager solution. With a single-pane-of-glass, user-friendly interface, you can view all your organization's remote devices from one location, simplifying management and optimizing security. With a shallow learning curve, encrypted connections, and automated scripts to install updates, the deployment of RDS will be a breeze for your IT team.
To see its transformative power for yourself, simply follow this link to request a demo and download the RPort remote desktop connection manager today.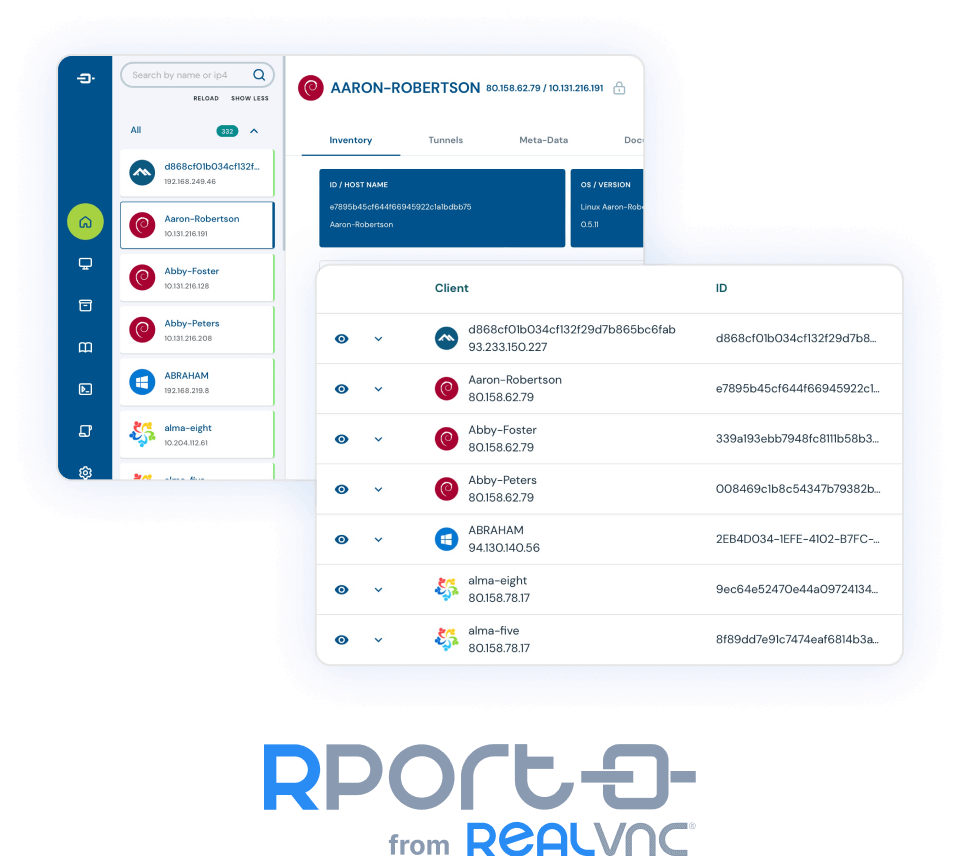 Remote Desktop Manager FAQs
Didn't find the answer you were after? Check out our Help Center for more FAQs, technical docs and how-to guides.
A remote desktop manager is a piece of software that helps ensure large numbers of remote desktop connections can run seamlessly. The software hosts remote desktop resources and can automatically satisfy client requests. This can help with security, reliability, and accessibility, and make a company-wide remote desktop solution easy to deliver.
RDP and RDC  are closely connected, but they are not the same. RDP stands for Remote Desktop Protocol and is a protocol that enables remote access by transferring inputs and visuals between devices. RDC stands for Remote Desktop Connection and is a specific Microsoft technology that enables users to control a remote computer. RDC uses RDP as its foundation.
The most helpful way to use a remote desktop manager is to optimize IT management. A remote desktop manager can automate the process of connecting to and using devices remotely, so your IT department doesn't have to manually set up each connection or troubleshoot faulty connections. This also makes it easier for remote or hybrid employees to reliably access their virtual workspaces and strengthens collaboration and productivity throughout your organization.