Remote Access iPad devices for IT Support with RealVNC®
Remote access for iPads can make your user experience smoother and more reliable. 
iPads allow programs for anything from word processing to image and video editing, as well as internet access, to be used anywhere. However, this convenience can make getting technical support difficult if issues occur when you're traveling or on the go.
With RealVNC remote iPad access, you're never cut off from the assistance or management you need.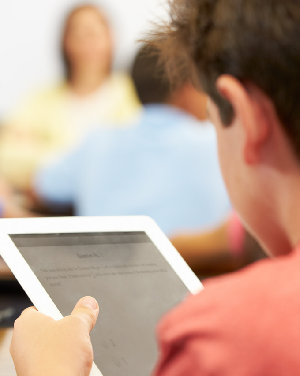 RealVNC features for iPad remote access
Reliable, smooth connections
RealVNC boasts consistent uptimes of 99.9%, guaranteeing a smooth connection for remote assistance for iPad sessions. 
Removing the chance of glitches or lag during remote iPad support, even in areas with low broadband and/or high latency, provides peace of mind for clients who are already dealing with other tech issues. When accessing an iPad remotely, you can rely on RealVNC for a consistent connection, allowing technicians to diagnose and fix issues without any risk of cutting out halfway through.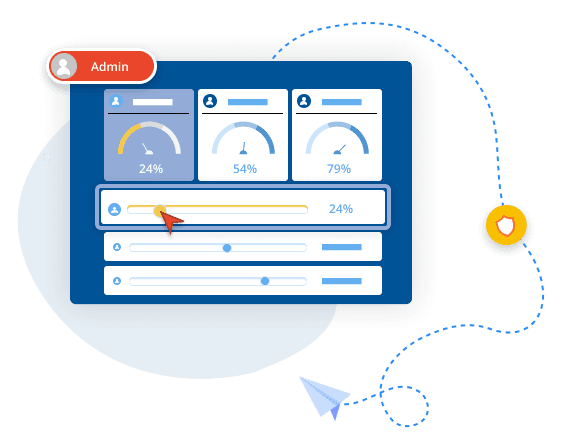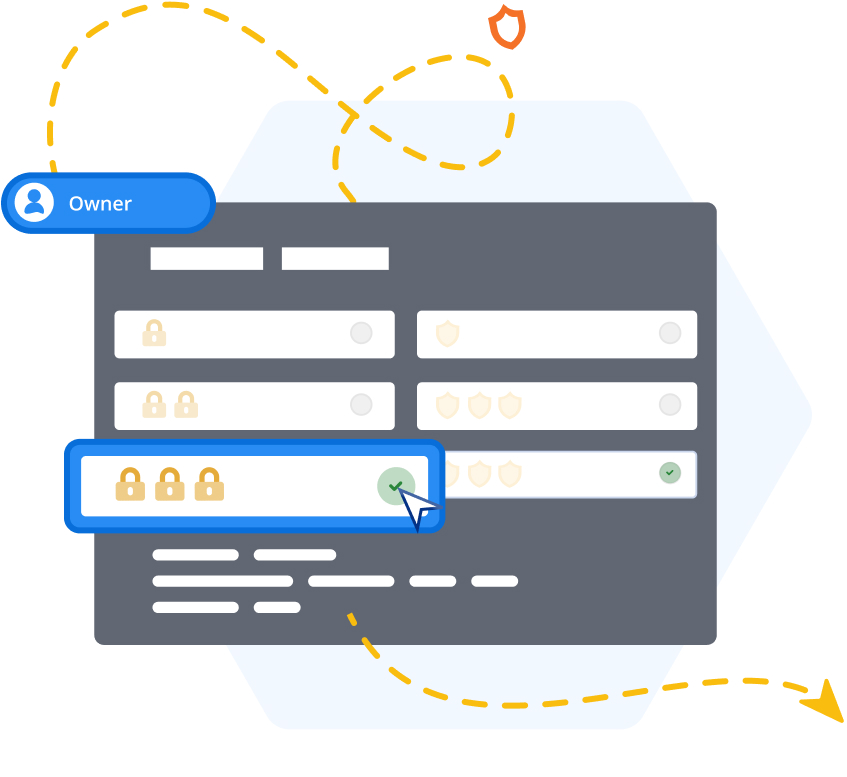 RealVNC uses top-of-the-range security systems that are regularly updated. To make sure they're fully secure, we also perform regular security audits. So, you can be sure that all your devices, data, and systems will remain secure when using our iPad remote assistance tools.
As well as iPads, VNC Connect® can also be used with a wide range of other supported devices. Your support provider can complete remote access to an iPad from a PC that uses a Mac or Windows operating system and give you full platform remote iPad support. Even if they're on the road, and only have their mobile device, VNC Connect works on iOS and Android operating systems, so support teams can always offer remote assistance for iPads, no matter where you, or they, are.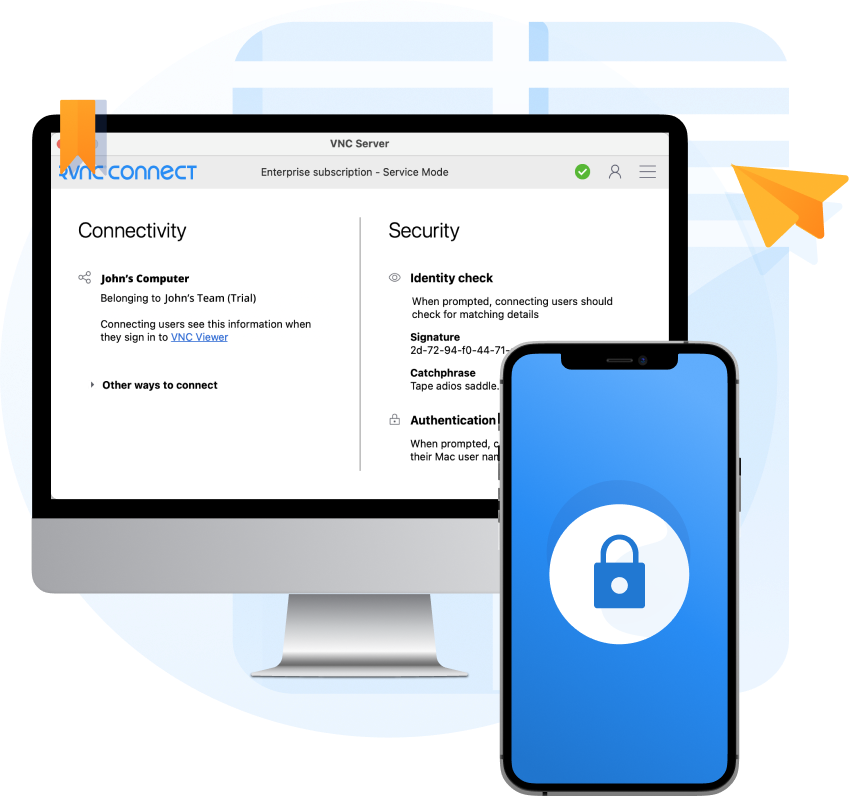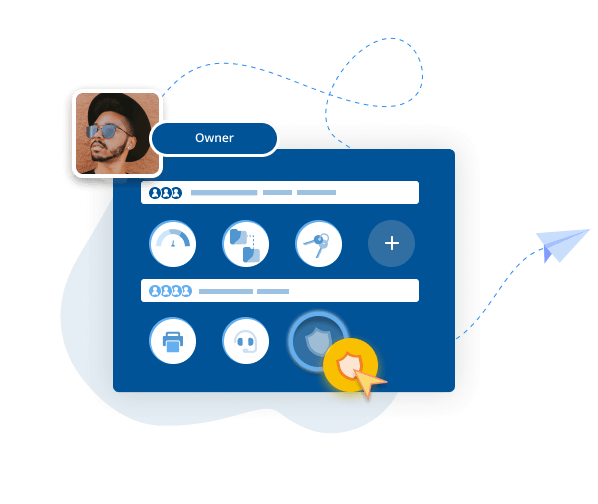 Feature-rich functionality
RealVNC offers a number of helpful features that are easy to find and use in our intuitive admin panel. File transfer and real-time chat are vital for remote work, but they can also be incredibly useful iPad remote support tools. Technicians can communicate with users through real-time chat to diagnose issues and explain fixes, while the file transfer feature can be used to send update or patch files to users and complete issue resolution.
Benefits of remote iPad support
With RealVNC, remote access to an iPad is quick, easy, and reliable. By granting technicians reliable connections to iPads with issues, even in low bandwidth/high latency areas, speedy diagnosis and first-call resolutions are much more likely. This reduces frustration for clients and employees, resulting in high levels of satisfaction as well as success.
Few things are more frustrating than a tech issue when you're miles away from support. RealVNC makes that frustration a thing of the past. By providing quick and easy remote support for iPad users, you can boost satisfaction and productivity.
Whether you're using it for remote iPad support or not, RealVNC is an incredibly cost-effective solution. For a low monthly subscription, you gain access to a solution that will cut your IT support costs, reduce downtime, and boost productivity.
An example of remote access to iPad use
VNC Connect for iPads isn't just useful for support. Remote access to iPads can also be incredibly useful if you need to monitor multiple locations at once. 
One of our clients, dBControl Norway, helps to run enormous concerts and festivals by monitoring sound levels for compliance. Having worked with huge names, such as Rammstein, Elton John, and Justin Bieber, they're in high demand.
In June 2022, dBControl was responsible for two major open-air festivals and a packed Alicia Keys concert, all of which were happening at the same time. 
By using VNC Connect installed on iPads, dBControl was able to run multiple sessions, with multiple display windows, through which they could monitor all the events at the same time. With the stable and secure RealVNC connections, they were able to make sure that all three huge, simultaneous concerts went off without a hitch.
How to remotely access your iPad with RealVNC
Using RealVNC for remote iPad access could not be easier. Simply download the VNC Server and VNC Viewer software, follow the installation instructions, set up your RealVNC account, and connect with a 14-day free trial!

First, download VNC Server on your iPad. VNC Server is the piece of software that is used to grant remote access to a device. Scan the QR code for iOS on our download page or search for 'RealVNC Server' in the Apple Store. VNC Server is currently compatible iPadOS 14 and iPadOS 15. 
You will also need to have VNC Viewer installed on the device that you want to remotely connect to your iPad from.
Set up your RealVNC account
Once the software is installed, you can enter the RealVNC interface and create an account. You will need an active email address that can be verified as well as a strong password. 
If you already have an account, you can just sign in.
Start your 14-day trial and connect!
If you are a new user, you will automatically have access to our 14-day free trial with no obligation to buy. Open VNC Viewer on the device you want to control your iPad from, select your iPad, and complete your iPad remote login to connect. It's that easy!