Power up your remote access
with add-ons for RealVNC Connect
Add extra functionality to your RealVNC Connect with a choice of plan add-ons.
Enhance security with single sign-on via Azure AD to the RealVNC® Connect Portal and RealVNC® Viewer.

Need to offer remote access at scale? This bundle provides the tools to deploy and manage RealVNC® Server across a large number of devices.

Deploy and license RealVNC® Server on devices that aren't connected to the internet for increased privacy and security for ultra-sensitive networks.
Power up your RealVNC Connect subscription with added capabilities
Explore the new Add-Ons Market
inside RealVNC Connect Portal
Get even more from your RealVNC Connect subscription* with our add-ons that bring extra functionality to RealVNC Connect. You can find and explore the Add-Ons Market within the RealVNC Connect Portal.
*Add-on availability is dependent on the RealVNC Connect plan that you are currently subscribed to.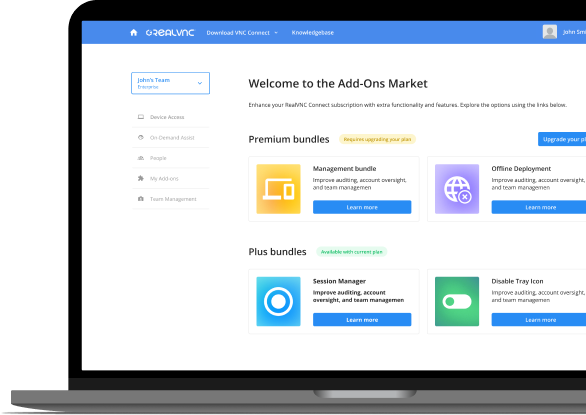 Frequently asked questions
If you can't find an answer to your question, please visit our Help Center or get in touch with us.
RealVNC Connect can only be purchased with annual billing. Monthly billing is not available.
If you need to increase the number of licenses you're using, you can do so in your RealVNC account.
However, please contact Sales if you need to change your license type.
You can download VNC Server here. It's the software to install on every computer you want to control.
You can download VNC Viewer here. It's what you install on every desktop computer you want to control from. If you're looking to control computers from a mobile device or to access a mobile device, search 'RealVNC' in the iOS App Store or Android Play Store.
Try RealVNC Connect® today for free
We don't require credit card data. 14 days of free, secure and fast access to your devices. Upgrade or cancel anytime