VNC for Ubuntu is a great tool to have, especially if you're constantly working on or supporting several devices. Installation couldn't be easier. There are two components and three important steps to follow:
While this tutorial refers to VNC Server on Ubuntu, I must mention that VNC Connect is multiplatform. This includes connecting to and from Windows, macOS, Linux, Raspberry Pi, Android, and iOS.
With that said, let's go back to VNC Server for Linux.hree
After that, extract the installer and run it. Then, choose Install VNC Server. The installer will work its magic and do every necessary bit of configuration for you.
Your VNC Server Ubuntu installation should be ready to go at this point. It simply needs a bit of configuring before you can use it. To do that, start it. 
The first thing will be to license it with the VNC account that you've created. If you haven't, no worries. You can create an account here. And if you already have an account, you can easily change your password, should you need to. Either way, make sure you create a strong password. 
Next, (if you have an Enterprise license), choose if you want to allow cloud connections. If you'll be accessing your Ubuntu machine remotely, cloud-brokered connections are more secure. And that's because you won't expose ports and data to the internet. You can find out more about staying secure with remote access here.  
However, if your environment is one in which data cannot leave the network, direct connections are also available. 
The next step is about security. We provide multiple authentication options, depending on your needs. Choose the one that best suits you. All VNC Connect connections use end-to-end encryption out of the box but you can decide to increase the encryption level if you prefer.
You then need to decide who can connect to the computer and whether a user on the computer needs to always approve a connection. In an IT support environment, this is a great idea. If, for example, the user is handling sensitive data, they can let you in only when they have closed a customer file.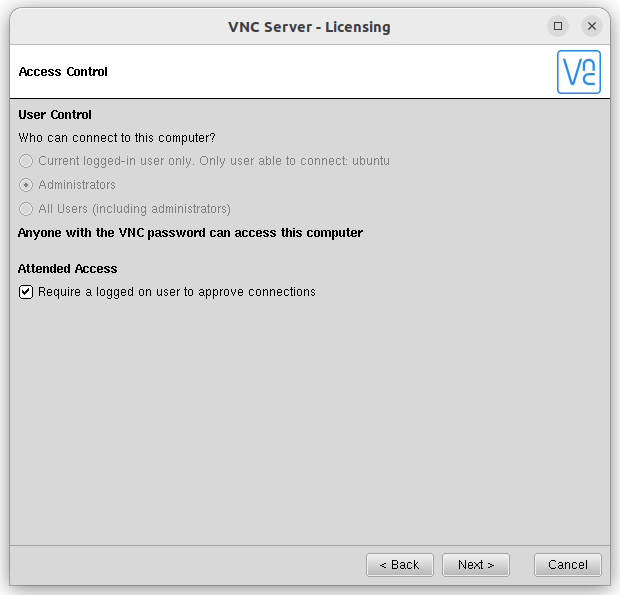 That's it! You have now installed VNC Server on Ubuntu. 
How to install VNC Viewer on Ubuntu
I don't need to mention that the moment you've licensed your VNC Server, you can access your Ubuntu computer from a computer running RealVNC's VNC Viewer. This is regardless of platform, provided they're signed in using a RealVNC account that is part of the same Team as the VNC Server.
However, to access other devices from your Ubuntu machine, just install VNC Viewer. You can now use the same installer that you've downloaded while following the steps above. The big difference is that you'll, of course, click Install VNC Viewer.
Once installed, I recommend that you sign in with your RealVNC account. That will give you access to cloud connections and make things much easier. Not to mention that your list of machines in your team will already be there. 
You'll connect to it in a few seconds!