Remote login: connection and collaboration from anywhere
Remote login can help you stay productive and collaborate with ease – no matter where you are!
Remote login to computers anywhere and anytime with RealVNC and revolutionize your working, connecting, and troubleshooting today.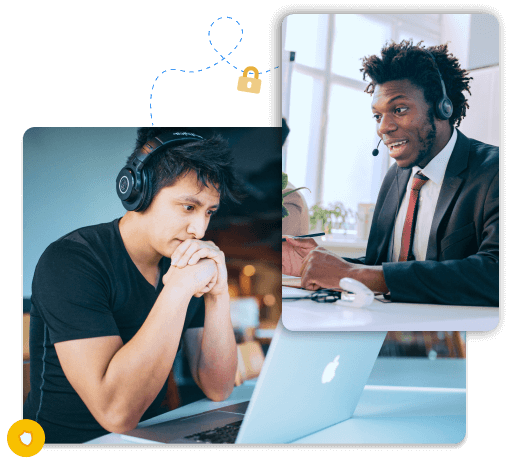 Remote login services from RealVNC
Expand your toolkit and embrace freedom with RealVNC's solution for a remote login desktop.
RealVNC offers robust security along with authentication tools to keep your remote sign-in experiences safe from unauthorized access. With encryption up to 256-bit AES and granular access controls, you can depend on our software for peace of mind.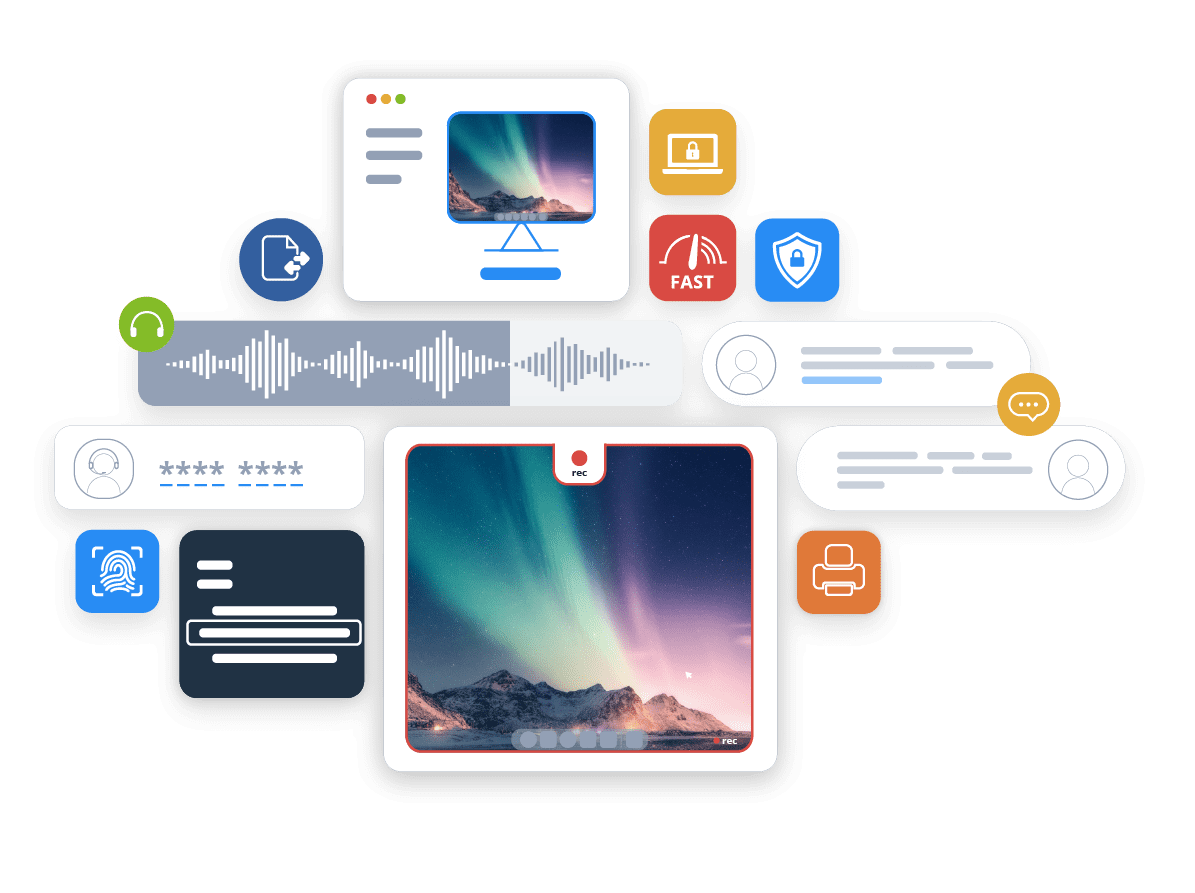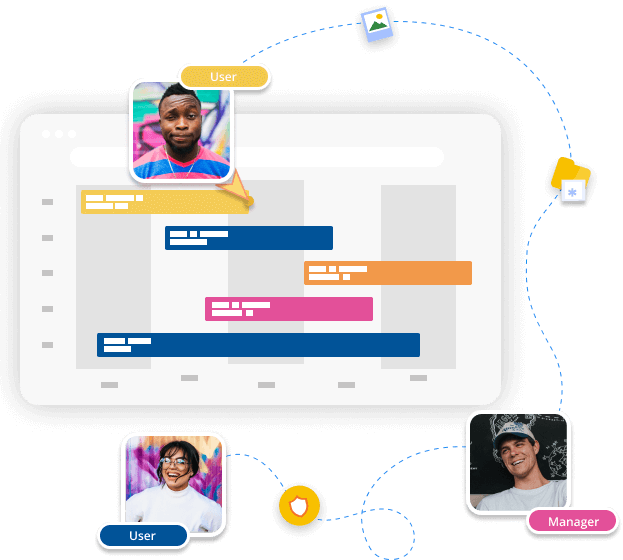 Our productivity tools enable your teams to access desktop resources from anywhere, making worldwide collaboration a reality. File sharing, real-time chats, and session recording keep your employees coordinated wherever they are.
We deliver top-notch, efficient performance so that you can rely on your RealVNC remote desktop. With consistent uptimes of 99.9%, our remote login will save you from frustrations and make you feel as if you're right in front of your remote device.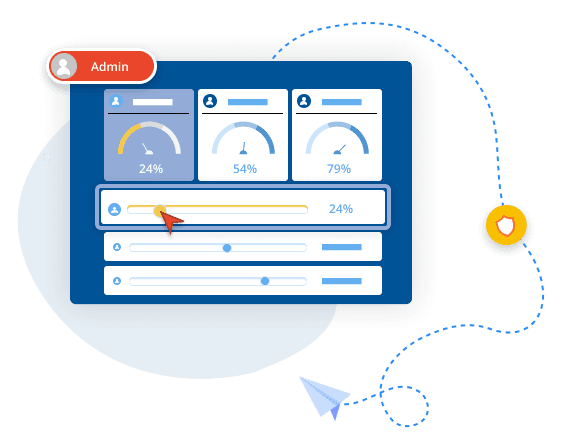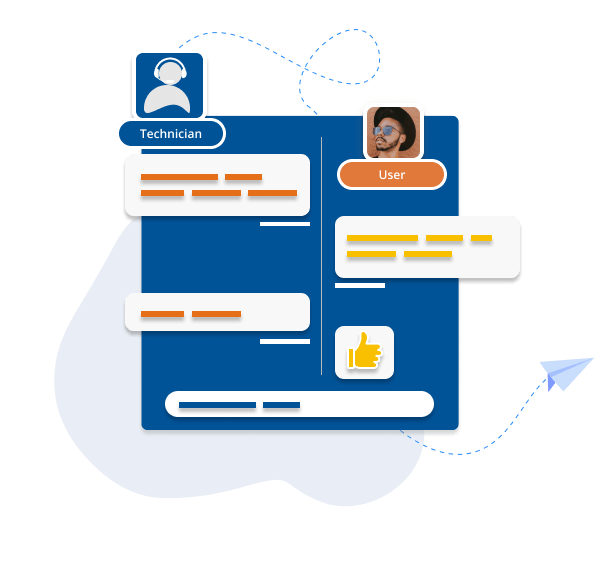 Whether you have subscription questions or need tech support, our dedicated help team is here for you every step of the way. As well as providing regular updates and patches, we're always just a call, email, or chat message away.
Why use remote computer login?
Full-time and part-time remote working have become increasingly popular over the last few years. Using a remote login removes the complexity of device juggling, allowing employees and employers to embrace the flexibility and convenience of remote access and work on their own terms.
Remote login tools can allow your IT team to effortlessly take charge of computer systems, replacing IT headaches with simplified management. Instead of completing on-site visits to set up technology, you can handle admin tasks from anywhere with remote monitoring.
The majority of remote workers report being just as, if not more, productive when working remotely. When using simple remote login, employees can create their perfect
remote desktop setup
and focus on the tasks that truly matter. Without office distractions and exhausting rush-hour commutes, employee satisfaction and productivity are both boosted.
Remote login software can also support lightning-fast troubleshooting. IT professionals no longer need to physically visit you at your office and can instead address technical issues from anywhere, accelerating issue resolution and dramatically cutting downtime.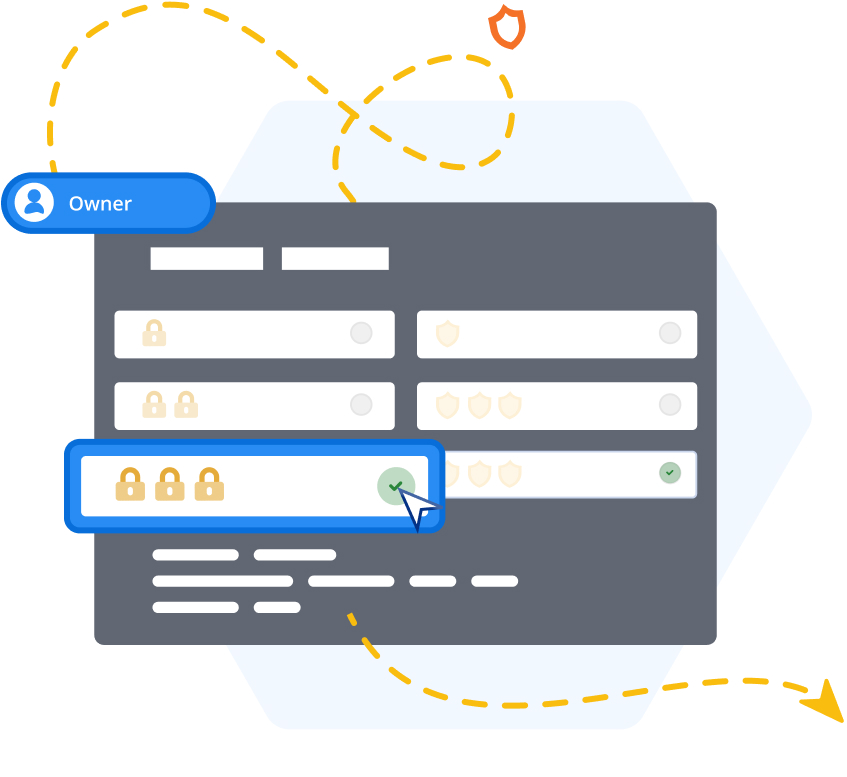 What to look for in remote login software
If you want to invest in the best remote login software for your business, these are the key features that you need to consider.
Usability
When choosing a remote login software, prioritize user-friendliness to ensure a seamless experience for both you and your team. Look for software with a simple, intuitive interface and an easy-to-navigate platform that will allow you to quickly set up and start benefitting from remote access tools without any technical headaches.
Reliability
A reliable connection is essential for enjoying the benefits of PC remote login. Look at the tools that providers use to provide their connections, for example, RealVNC uses high-speed streaming and auto-adjusts connections to provide the best remote connections no matter what your network speed. You can also use customer testimonials to get a better idea of a product's reliability. Used by millions of people worldwide every day, RealVNC has a host of success stories.
Budget
The prices of different remote login software can vary widely, so be sure to compare costs carefully. Some charge one-time fees, while others have monthly or yearly subscriptions. A flexible pricing model is a good choice for smaller businesses that will need to increase capacity as they grow.
How to ensure your remote device login is secure
Just like any other online activity, security should be a top priority when it comes to remote login software. These are some of the best ways to protect yourself when using a PC remote login.
Opt for multifactor authentication and lockouts
On top of a strong password, multifactor or two-factor authentication can add an extra layer of protection. With these, a unique code can be sent to your mobile device, which is then unlocked with face or fingerprint biometric data, making it the best way to ensure that no one but you is accessing your account.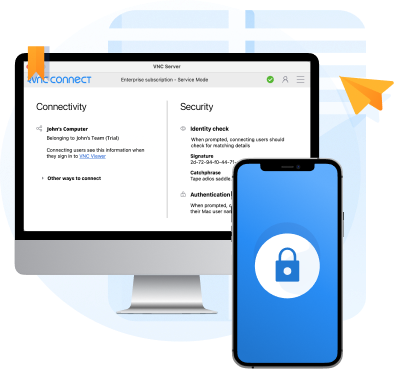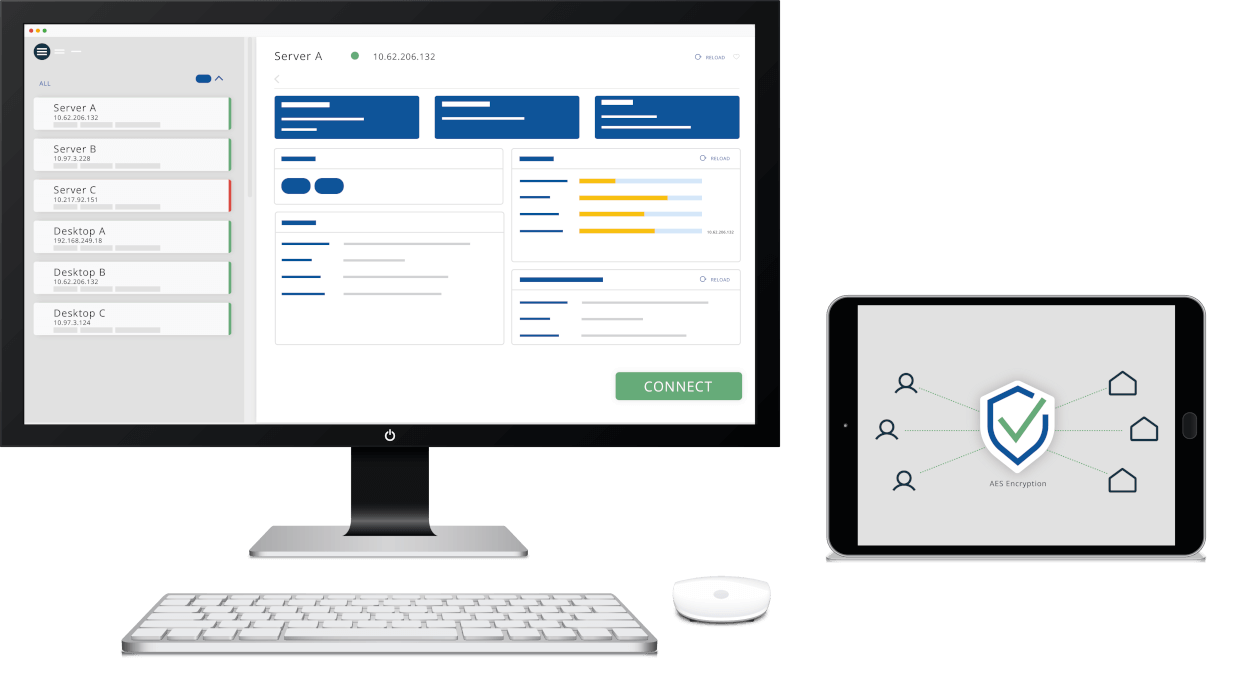 Use a VPN and maintain firewalls
A Virtual Private Network (VPN) acts like a secret tunnel, making sure your remote desktop server isn't directly exposed to the wild west of the internet. Instead, it's accessible only through your local network, making it way tougher for potential hackers to get in. Another must-have is firewalls, which stop unauthorized access to your systems and protect your data.
Enact a strong security policy
With a security policy, you can protect your business from cyber mishaps. This comprehensive plan can involve educating employees on best remote login practices, such as regularly updating passwords, never sharing login details, and guarding against phishing attempts, as well as guidelines on acceptable remote access use.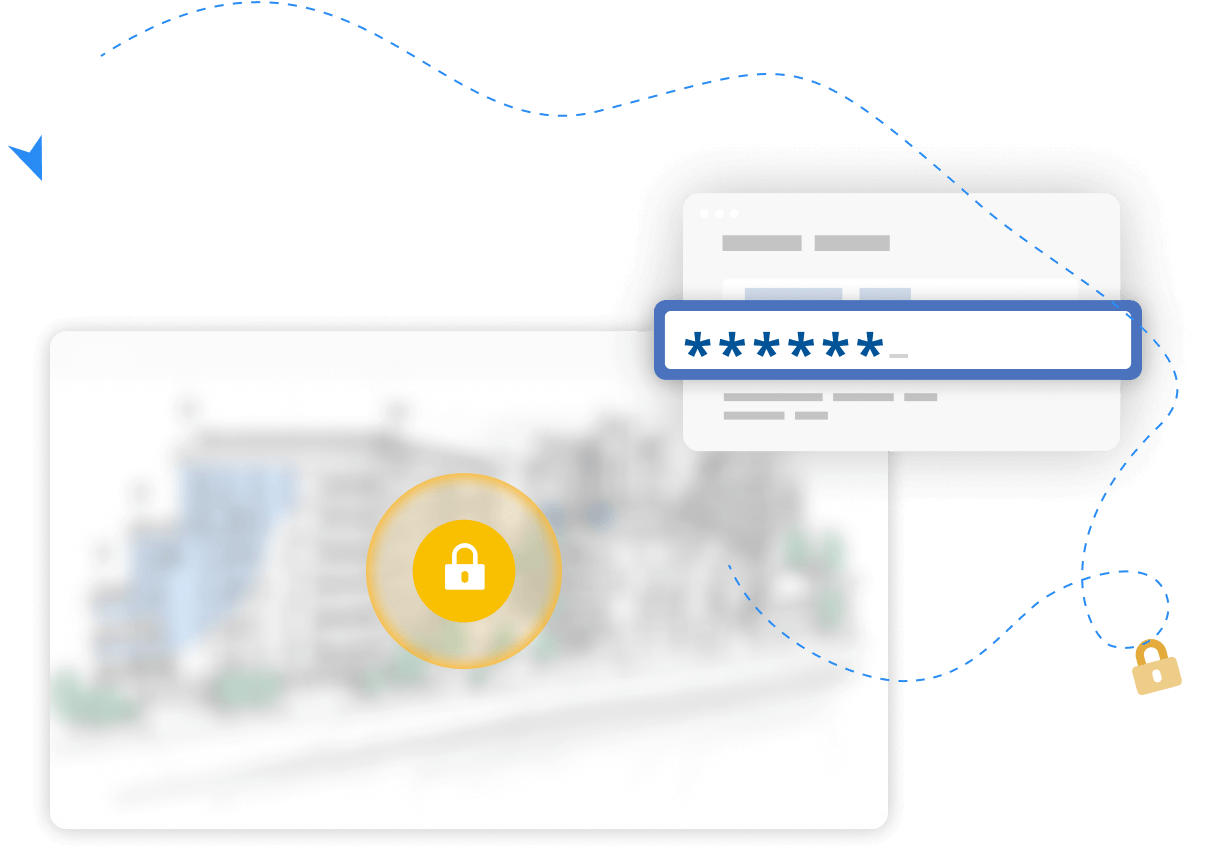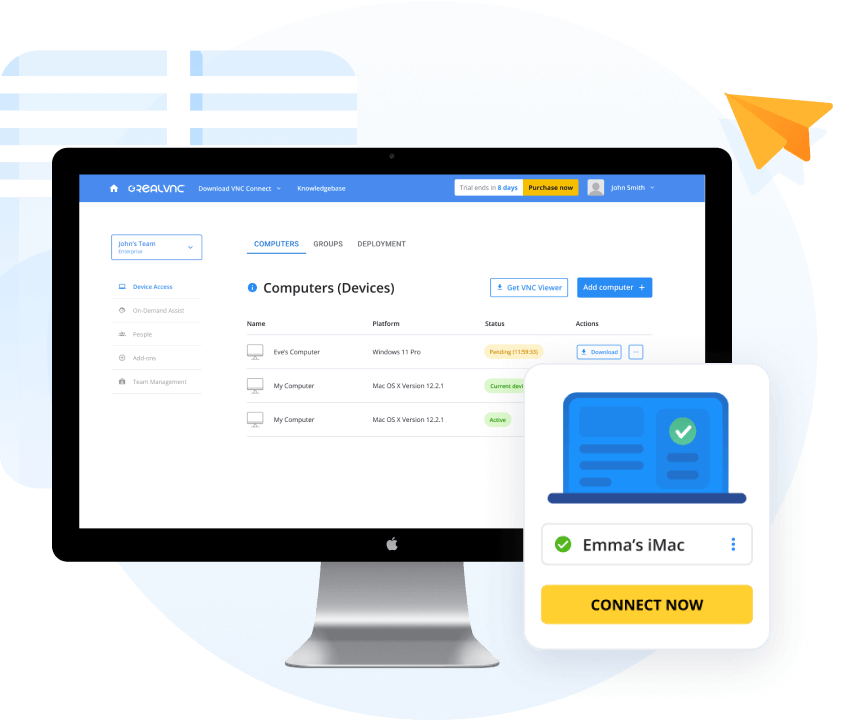 Regularly update software
Regularly updating your software is key to protecting your system. Whether it's for your operating system or favorite applications, updates are packed with essential security patches and bug fixes. To make life a little easier—enable automatic updates whenever you can.
Didn't find the answer you were after? Check out our Help Center for more FAQs, technical docs and how-to guides.
Remote login lets you access your computer or network from a distance. The ability to log in to a computer remotely over a secure connection lets you access data, programs, and more whether you're working from home or traveling away from the office.
When you use a PC remote login, your computer uses remote access software to establish a secure connection with the remote access device you're using, creating a virtual link between the two.
With this connection, you can view and control your computer's screen as if you are physically present. All you need is reliable remote login software and an internet connection to access files, applications, and resources from anywhere.