What can you do better with remote access
Download our eBook for a comprehensive guide on how to make the best use of remote access.
With remote access software, you can connect to your computer and devices from anywhere in the world, as if you were sitting right in front of them. Screen sharing technology has been traditionally known as a software for the IT helpdesk, and while this is still one of the highest value applications, remote access is becoming recognized for its wider business benefits.
As a result, remote access software is no longer just a tactical IT tool, but it's also a strategic one that is deployed across the organization to support multiple use cases. The wider adoption of screen sharing software is helping companies to enable progressive business practices such as remote working, remote training, and helping the IT department to manage an ever-increasing range of devices.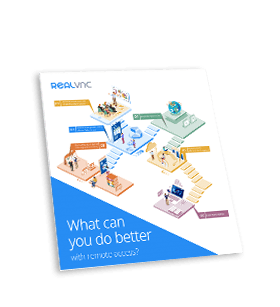 In this eBook, we'll help you take full advantage of your remote access solution and improve the performance of each of your business divisions, including:
HR and staff management
Sales
Finance
IT and help desk
Executive management
Enter your details to download now.