Download the 'Choosing a remote access software solution' guide
Everything you need to know to select the perfect option for your business
With so many options on the market, choosing the remote access software solution that offers your business the best value for money can be a frustrating process. But it doesn't need to be.
In this guide, we discuss some of the most important considerations, including:
Cloud versus direct connectivity
Evaluating features
Installed VS Instant Support
Security: what to look for in a vendor
Pricing models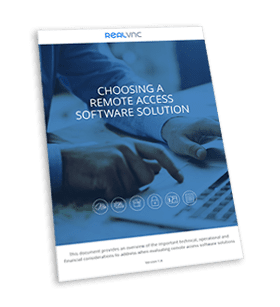 This handy guide will providing clarity on the most important aspects of choosing a cost-effective remote access solution that will help your business thrive, whatever your use case.
Enter your details to download it now.