San Diego Unified Port Authority - case study
The San Diego Unified Port District is responsible for managing San Diego Bay and the surrounding waterfront which includes cruise ship and cargo terminals, Law Enforcement, Marine Fire Fighting, tenant land leases, public open spaces and wildlife reserves.
The Port's Business Information and Technology Services department required an all-encompassing remote support solution. By deploying RealVNC remote access software on all computers around the Port, the IT team is able to fix problems, manage servers and offer help remotely, eliminating the need to drive to individual locations.
software gives the engineers direct access to mission critical devices located worldwide to view status updates and health data not only when they are in the office, but also while at home. This allows them to troubleshoot devices at a critical time when the difference of having to drive into work could be enough to lose a satellite in orbit.
The Unified Port of San Diego comprises 500 staff spread across 11 different locations with departments including Legal, Real Estate and Maritime. The IT team is tasked with supporting these departments along with the Harbor Police Department, which requires around the clock IT access. With staff spread across the Port, troubleshooting can be time consuming when technicians have to travel deskside. A solution was required to facilitate better support for these departments, even after-hours. need for cross-platform support, on both UNIX and Windows systems.
RealVNC remote access software is now deployed to all Unified Port of San Diego workstations and servers. Previously, when problems arose IT staff would bundle calls before driving to each location that needed support.
Now, most problems can be fixed remotely, with IT staff regularly praising the amount of time and fuel cost savings. The IT team is also able to provide the Harbor Police Department with 24/7 support. When the on-call technician receives a support request during the middle of the night they are able to remotely connect to a computer or server, fix the problem and be back in bed within minutes.
In addition to supporting staff, the IT team can also maintain critical servers that host many of the Ports services housed in data centers located far away from the IT department's office. With the RealVNC software they are able to access the servers remotely ensuring they are maintained and running effectively, without having to leave the office.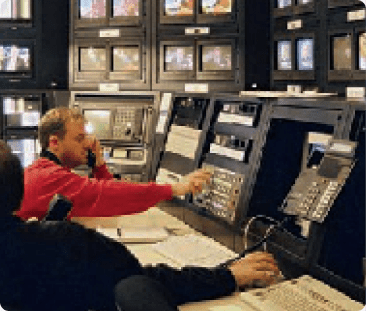 " Having used RealVNC remote access software on a daily basis for over 5 years, VNC has significantly increased productivity and become our life-line."
Maria Horne
Senior Support Analyst
The RealVNC remote access software was chosen due to its reliability, ease of use and after sales support. The IT team are thrilled with the value that the software brings to the department in terms of increased productivity, as well as the level of support that they can provide, and continue to use the software on a daily basis.