Kyrene School District - case study
Comprising of 19 elementary and 6 middle schools, Kyrene School District is an award winning suburban district serving Arizona, USA. RealVNC remote access software was chosen so that the IT team of 20 could provide IT support to 3,000 staff and 19,000 students located at any of the schools in the district.
With the RealVNC software deployed, IT technicians are able to quickly and securely troubleshoot and fix problems without needing to travel around the schools, improving the level of support on offer and keeping disruption to a minimum.
With 25 schools spread across parts of Tempe, Chandler, Guadalupe and Phoenix, Kyrene School District's IT team required a solution to enable them to support staff and students with IT problems. Quick and easy access to any of the 12,000 workstations located in every department of the schools was essential in order to troubleshoot and resolve issues as they arose. With large scale use, the solution also needed to be easy to deploy while working within the school's current network.
Using RealVNC remote access software, technicians are now able to take control of any machine across the district and provide assistance directly from their desk, be it a problem with a staff member's email or a student having difficulty with a web browser. With a large percentage of all IT problems now resolved remotely staff and student support requests are being addressed much quicker and ticket throughput has increased.
In addition, the software is allowing Kyrene School District to make significant time and cost savings by eliminating the need for IT staff to give lengthy, and often complex, instructions over the phone or travel to individual schools to fix problems. On occasion, remote access is also used as a cost effective method of internal training. When a staff member is installing a new programme or piece of software, the IT team can walk them through the process, assisting them with queries as they arise.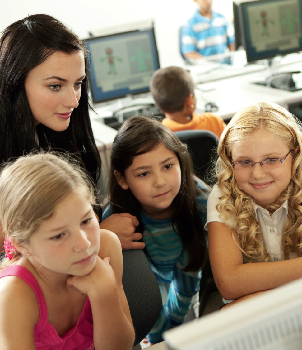 "RealVNC remote access software is extremely reliable, and always has been, we just know it's going to work when we need it."
Damian Nichols
Assistant Director of Technology
With its simple architecture and minimal system requirements, the RealVNC remote access software has been easily integrated within Kyrene School District's secure network. The speed, simplicity and reliability was also a factor in the purchasing decision. Thanks to RealVNC, IT staff are confident they can always be relied on to provide a high level of IT support when required.