Save 50% on VNC Connect
Offer valid until 27 July 2017 only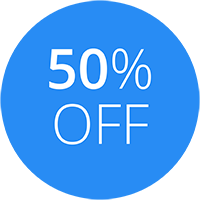 As somebody who has previously trialled our RealVNC software we are pleased to offer you a special 50% first year discount* on our new VNC Connect subscription.
VNC Connect is our latest, and most advanced, remote access software. Uniquely it offers hybrid connectivity; choose to establish traditional direct (peer-to-peer) connections, connect via our new cloud service, or use both. Managing access to your computer estate is now easier and faster than ever before.
New VNC Connect features:
Unique cloud and direct connectivity
Secure multi-factor authentication
Advanced team/departmental management
Flexible file transfer and remote printing
VNC Connect supports help desk, training, resource sharing, collaboration and much more.
To learn more about VNC Connect and take advantage of this special offer, simply complete the form on this page and we'll get in touch to discuss your options.
* The 50% discount offer expires 27 July 2017 and applies only to the first year of a VNC Connect subscription.