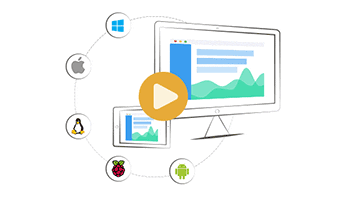 for one remote computer per month*
per named technician per month*
*Prices exclude local taxes. ​
Plans billed annually.
for one remote computer per month*
per named technician per month*
*Prices exclude local taxes. ​
Plans billed annually.
Compare our subscriptions
Professional

Enterprise

Software licensed for commercial use
Yes
Yes
Latest desktop & mobile platforms

You can access remote computers running our VNC® Server app on the latest Windows, Mac and Linux platforms. You can take control from our VNC® Viewer app running on the same range of desktop platforms, and also from Android and iOS devices.

Cloud connectivity
Full session encryption
128-bit AES
Up to 256-bit AES
High-speed streaming
Team management capabilities
Support
Audio

Device access

24/7 attended and unattended access to computers you own or manage.

Maximum number of remote computers
Controlled by tier
Controlled by tier
Maximum number of connecting users
Unlimited
Unlimited
Simple password authentication
Multi-factor & system authentication
Printing, file transfer, chat
Dark mode for Mac OS
Screen recording
Direct connectivity
Single sign-on (SSO)
Centralized deployment w/ license key
Remote configuration/lock down
Legacy platform support
User and Virtual modes
Third-party VNC® compatibility

Instant support

Instant access to anyone's computer, without installing remote access software.

Concurrent sessions per technician
3
10
Simple session code authorization
File transfer
Elevation to run admin operations
Automatic resume on reboot
Branding and app customization
Comprehensive session history
Our free version of VNC Connect is available for personal, non-commercial use for up to 5 devices, and is suitable for Cloud connections only.
Please note: a home subscription offers limited functionality and does not include high-speed streaming, audio, remote printing, file transfer or customer support. Why not take a 14-day trial to experience the full features of VNC Connect instead?
Can't see what you're looking for?
If you need anything else, please don't hesitate to get in touch.